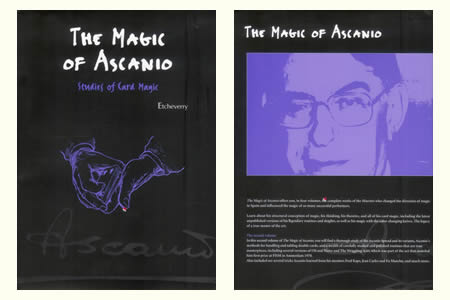 Description
The Maestro left us the 6 of April, 1997, but his magic remains alive.
The magic of Ascanio, in four volumes.
His theories, his thinking, his philosophy, and the entirety of his card magic
, including his legendary routines (with over thirty previously unreleased tricks), full of the Ascanian touch, and his magic with pocket knives.
Volume 2 – Studies of card magic
This second volume, with forewords by Roberto Giobbi and Aurelio Paviato, contains an exhaustive study of the Ascanio Spread and its variants, and all the lay-downs.
These sleights, the cornerstones of Ascanio's magic, have never been explained so thoroughly before. Careful study of this section alone will give you a complete understanding of these marvelous sleights.
Contents:
The Ascanio spread and its variants

The lay-downs and their combination with the Ascanio spread

Early version

His mentors

His comrades

Ascanio on Marlo

Beloved favourites

Other favourites

Two classics

Mirror masterpieces


Language: English, 310 illustrated pages




Return to the catalogue
This item is no longer
sold on Magicaplanet