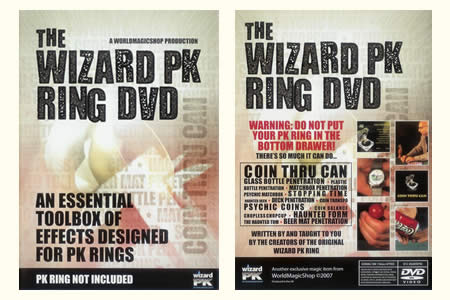 Description
This is THE DVD that will allow you to perform new routines and to amaze even more your audience.
An essential video for the Pk ring owners. There is so much you can do with this ring.
Sit down and enjoy it!
Contents:


Coin thru can

Glass bottle penetration

Plastic bottle penetration

Matchbox penetration

Psychic matchbox

Stopping time

Haunted deck

Deck penetration

Coin transpo

Psychic coins

Coin balance

Chopless chopcup

Haunted fork

The haunted tom

Beer mat penetration

Written by and taught to you by the creators of the original Wizard pk ring.



Language
: English,
Running time
: 50 min
Return to the catalogue