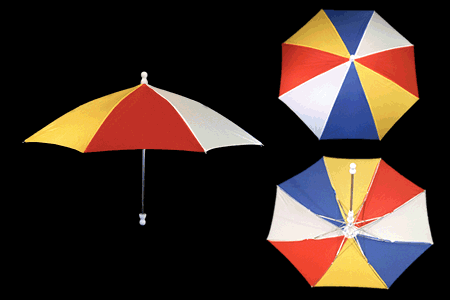 Description
Parasol productions are for a long time considered as surprising and refined. Despite this reputation, their secret is still unknown.

You can produce a parasol whenever you want in your show. For example you can make it appearing from a mirror box or a Fantasta (Square Circle Deception).

With two parasols, you will be able to easily double a parasol and the effect is sure to enjoy your audience.

With three parasols, you will be able to easily make them appearing from a production silk. Imagine: you have three handkerchiefs in your hand, you just have to make a magic move and a blue parasol appears. You put it apart to make appearing a red parasol. At the end, you produce the last multicolour parasol, astonishing your audience.

Numerous productions are performable with a such accessory. They will amaze and enjoy your audiences. You can also adapt the parasols to your own personal shows to create and original and poetic routine.


Sold by one.
Colors: White, Blue, Yellow, Red.


Sizes:
Height: 42,5 cm
Opened parasol diameter: 64,5 cm
Closed parasol diameter: 4 cm


Also learn all the parasol production secrets with the famous Joker Lam by searching on our website his DVD (sold apart) of which you can see a teaser:
Return to the catalogue