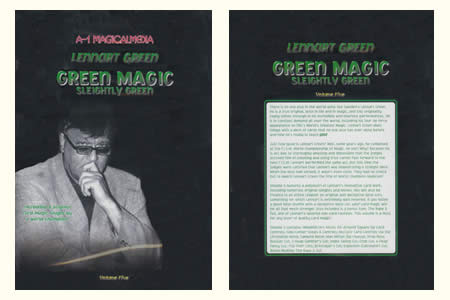 Description
See the magic that has made Lennart Green famous worldwide!
He competed at the FISM world chiampionship of magic and ... he lost. Indeed he is so amazing that the juges accused him of using trick cards.Then he performed the same act with an ordinary deck and won. You can imagine how he masters magic!
Volume 5 contains a potpourri of Lennart's innovative card work, including items with a gambling theme. You will also be treated to an entire chapter on original and deceptive false cuts, something for which Lennart is extremely well-revered. Follow a false shuffle with a strong false cut and your card magic will be all that much stronger. This volume is a must for any lover of card magic!
Included in the DVD are:
Gambling Routines

Center Deal/Royal Flush

Russian Cut

3-Heap Gambler's Cut

Index Swing Cut

6-Heap Cut

Flip-Over Cuts

Crab Cut

Bricklayers Cut

Windmill/Arc Move

All-Around Square Up

Side Steal & Steal from Center

Drop Pass

4-Card Control with Circulation Move

Samurai Move

Max Milton Top Change


Language : English. Multizone Dvd




Return to the catalogue