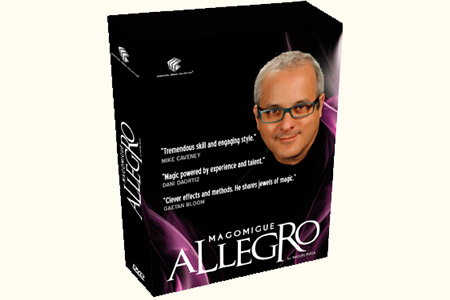 Description
Miguel possède cette combinaison rare d'un sens de l'humour incroyable, une technique irréprochable et la capacité à concevoir des routines qui blufferont les magiciens tout en faisant passer un bon moment aux profanes. Ses routines brillamment conçues et son style charmeur ont diverti et bluffé les publics du monde entier.
Miguel Puga, connu sous le nom de MagoMigue, révèle certains de ses secrets les mieux gardés. Plus de 24 routines professionnelles et primées dont 5 des meilleures routines de magie verticale que vous ayez jamais vues.



Au Sommaire :
Disque 1
- Stand up
Filmé au théâtre de Ansiao au Portugal, vous verrez 5 des meilleurs routines possibles : de quoi amuser et émerveiller le public. Elles sont sans aucun doute parmi les toutes meilleures routines publiées à ce jour.
Carte et verre, impression de carte, billet dans le citron, silver prestige, cartes à la poche.
Disque 2
- Cartes normales
Les routines issues du répertoire de Miguel Puga.
Imagination, Poker, Not Your Card, The Bubble, Cards Across, Card on Floor, Cards on Forehead, Dracula, Card in Glass, The Vanishing.
Disque 3
- Cartes avec accessoires
Stapled Card, Invisible Triumph, The Lovers, Four Ace Routine, Nudist Deck. Et le secret de Shadow Cards comprenant Cannibals, Transposition et The Frog Prince.
Disque 4
- FISM acts
Miguel explique deux numéros récompensés à la FISM dont celui qui lui a valu le premier prix en cartomagie. Avec Coin Transposition et Coin under Watch.
Vous aurez également une interview de Miguel Puga où il aborde sa vie et son travail, de sa carrière magique à ses trophées à la FISM.
4 DVDs Multilangues
Durée Totale 9h49
Des effets, idées et routines époustouflantes
Par l'incroyable magicien Espagnol : Miguel Puga (Magomigue)
Produit par Luis de Matos : Essencial magic collection (EMC)

Retour au catalogue