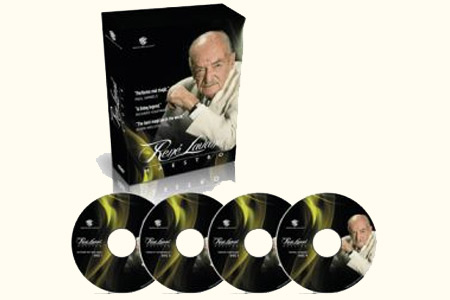 Description
René Lavand est un véritable maître dans l'art magique. Un magicien élégant et habile, ayant la particularité de tout réaliser à une seule main, et rendant la moindre routine en un acte théâtral et poétique. Découvrez son spectacle professionnel et descellez tous ses secrets.
Des DVDs de haute qualité tourné en angles multiples très agréables à regarder.



Au Sommaire :
Disque 1
- An Evening with René Lavand :
Spectacle intégral de René Lavand.
Disque 2
- Threads of Marionettes :
Explications détaillées des secrets et techniques du spectacle.
Disque 3
- Signature Compositions :
Le répertoire personnel de ce maître vous est dévoilé.
Disque 4
- Personal techniques :
Des techniques incroyables, des mouvements nouveaux des explications approfondies...
4 DVDs sous-titrés Multilangues
Durée Totale 7h57
Des routines subtiles et poétiques réalisées à une seule main
Par le Maître incontesté René Lavand
Produit par Luis de Matos : Essencial magic collection (EMC)

Retour au catalogue