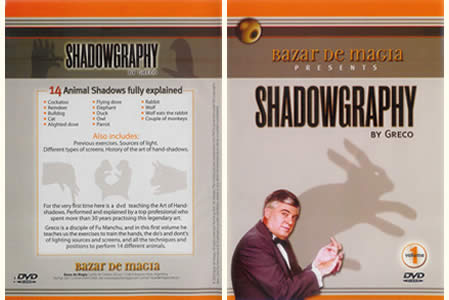 Description
Enfin un DVD qui vous permettra d'apprendre tout l'art des ombres chinoises.
Ce DVD est présenté et réalisé par l'un des meilleurs professionnels en la matière, fort de plus de 30 années de pratique de cet art légendaire.
Volume Un
Greco vous présente les exercices vous permettant de vous faire la main, les éclairages qu'il faut utiliser et ne pas utiliser ainsi que les techniques et positions vous permettant de réaliser les ombres suivantes :
Cockatoo (Cacatoès)


Reindeer (Renne)


Bulldog (Bouledogue)


Cat (Chat)


Alighted Dove (Colombe immobile)


Flying Dove (Colombe en vol)


Elephant (Elephant)


Duck (Canard)


Owl (Chouette)


Parrot (Perroquet)


Rabbit (Lapin)


Wolf (Loup)


Wolf Eats the Rabbit (Loup mangeant le lapin)


Couple of Monkeys (Couple de singes)
Ce DVD comporte également :
- Previous exercises
- Sources of light
- Different types of screens
- History of the art of hand-shadows
Langue
: Anglais.
Retour au catalogue