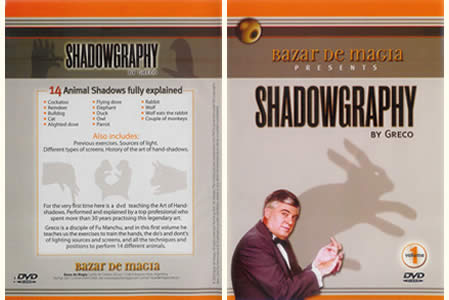 Descripción
Por fin un DVD con el que dominarás el arte de las sombras chinescas.
Este DVD está presentado y realizado por uno de los mejores profesionales en la materia, con más de 30 años de experiencia en este arte legendario.
Volúmen Uno
Greco te presenta los ejercicios de manos, las iluminaciones que hay que utilizar y las que no, y las técnicas y posiciones necesarias para hacer las sombras detalladas a continuación :
Cockatoo (Cacatuas)


Reindeer (Renne)


Bulldog (Bulldog)


Cat (Gato)


Alighted Dove (Paloma inmovil)


Flying Dove (Paloma voladora)


Elephant (Elefante)


Duck (Canario)


Owl (Lechuza)


Parrot (Loro)


Rabbit (Conejo)


Wolf (Lobo)


Wolf Eats the Rabbit (Lobo comiendo un conejo)


Couple of Monkeys (Pareja de monos)
Este DVD también incluye :
- Ejercicios previos
- Fuentes de luz
- Diferentes tipos de pantallas
- Historia del arte de proyectar sombras con las manos
Lengua
: Inglés.
Volver al catálogo