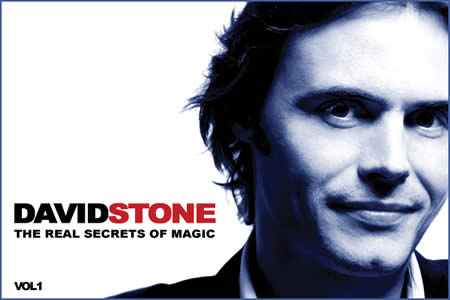 Description
Ce DVD est une vraie mine d'or pour tous ceux qui souhaitent franchir le pas et faire de leur passion un métier.

Voici enfin la sortie du DVD ''The real secrets of magic'' !!! où David Stone vous fait profiter de son expérience et nous montre toutes les erreurs à ne pas commettre. Comment réagir fasse à des spectateurs 'difficiles', quels sont les pièges à éviter, comment gérer les conditions difficiles.

Vous découvrirez aussi 19 routines complètes avec l'humour et le professionnalisme de D.Stone. Elles vous permettront de faire du table à table pour débuter le métier de magicien professionnel à travers un film drôle et original.

Ce DVD a remporté le prix du meilleur film magique 2006 à Las Vegas. David Stone vient tout juste de remporter un prix mondial au championnat du monde de la FISM 2006.


AU SOMMAIRE :


Introduction (Hermes), …

Le Métier – The Job (one coin routine).

Les Obstacles – Working Conditions (Hallucination).

La Magie Verticale – Stand up Magic 'Ghost).

Les tours –The Routines (Watch Out).

Les Numéros – The Acts (Bonneteau – Hierling)

Trouver un Restaurant – Finding a Restaurant (ATM)< br>
L'adaptation – The Adaptation (Flash Card)

Avec le Personnel – With the Staff (Crossed)

Le Maitre d'Hôtel – The Maitre d'hotel (Cig Clean)

Techniques d'approche – Approaching Techniques (Cards)

Le Moment d'Intervention – When to Perform (Coin Glass – Voile Rouge)

Aborder les Tables – Performing at the Tables (Traveler)

Le Leader – The Leader (Sponge)

Le Tour d'Entrée – The opening Trick (Flash Deck – Snow Ball)

L'effet de Surprise – The Surprise Effect (Napkin)

Le refus – The Refusal (Bite Me)

BONUS :


Making of

Short Movie

Galerie Photos

Zakary Belamy

Yannick Chretien Teaser


Langue : Français, Anglais - Durée : 152 mn – DVD Multizone.



Retour au catalogue