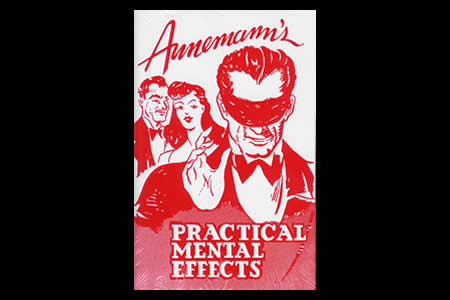 Description
Ce livre écrit par
Ted Annemann
ravira les amateurs de mentalisme. Quel que soit votre niveau de magie, vous pourrez profiter des nombreux
effets de mentalisme
qu'il propose.
310 pages illustrées reprenant les meilleurs effets de mentalisme proposés à l'origine par Ted Annemann dans son magazine de magie ''Jink''.
De très nombreux effets présentés dans 12 chapitres qui ne requièrent aucun matériel particulier et stupéfieront vos spectateurs.
Au sommaire
Chapitre 1 : Effects with billet (le magicien révèle le contenu de bouts de papiers...).

Chapitre 2 : Publicity effects (en relation avec les médias).

Chapitre 3 : Dead or Alive (vous devinez un nom écrit par un spectateur...).

Chapitre 4 : Book tests (trouvez un mot choisi dans un livre par un spectateur...).

Chapitre 5 : Thought foretold (prédictions).

Chapitre 6 : Miscellaneous mental masterpieces.

Chapitre 7 : Envelope necromancy.

Chapitre 8 : Miracle slate routines (apparition de message...).

Chapitre 9 : Money mentalism (lecture du numéro de série d'un billet...).

Chapitre 10 : Blindfold reading (continuez à deviner les yeux bandés...).

Chapitre 11 : Mentalism with cards (trouvez une carte choisie...).

Chapitre 12 : Psychic codes (communication secrète entre deux personnes...).




Langue : Anglais – Format : 14 x 21,7 cm – 310 pages – Illustrée.

Retour au catalogue