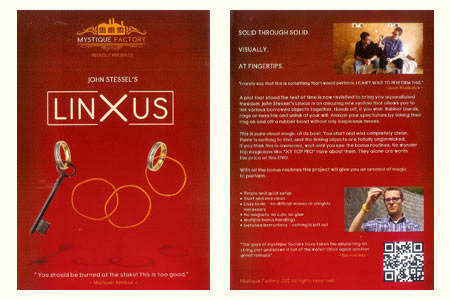 Description
A plot that stood the test of time is now revisited to bring you unparalleled freedom. John Stessel's LinXus is an amazing new system that allows you to link various borrowed objects together. Hands off, if you wish. Rubber bands, rings or keys link and unlink at your will. Amaze your spectators by linking their ring on and off a rubber band without any suspicious moves.
If you think this is awesome, wait until you see the bonus routines. No wonder top magicians like Michael Ammar rave about them. They alone are worth the price of this DVD.
With SIX routines explained, this project will give you an arsenal of magic to perform.
- Simple and quick setup
- Start and end clean
- Easy to do - no difficult moves or sleights necessary
- No magnets, no cuts, no glue
- Multiple bonus handlings
- Detailed instructions - nothing is left out
Recommended by top professionals

Return to the catalogue
This item is no longer
sold on Magicaplanet