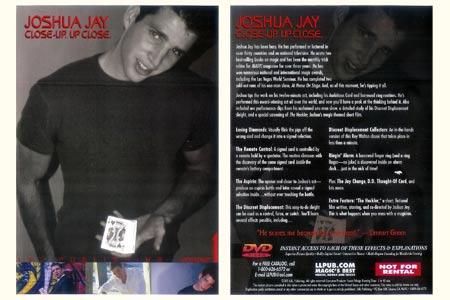 Description
Dans ce premier volume de sa trilogie « Close up. Up close », Joshua Jay vous dévoile tous ses secrets : sa magie est interactive, surprenante, subtile, et très intelligente. Apprenez 8 routines impressionnantes.
Joshua Jay est un
jeune magicien talentueux
qui se produit dans différents pays et qui
possède déjà une grande expérience et un parcours formidable.
Il pratique sa magie régulièrement dans des émissions télévisées américaines et a déjà remporté un grand nombre de prix comme par exemple le « Las vegas world seminar ».
Apprenez ses tours, travaillez-les, et ajoutez-les à vos propres routines. Il explique tout un tas de techniques, subtilités et donne de nombreux conseils qui pourront vous servir toute votre vie…
8 routines expliquées en détail + bonus
DVD en anglais
Durée 1h41

Au Sommaire

Losing Diamonds:
Visually flick the pips off the wrong card and change it into a signed selection.
The Remote Control :
A signed card is controlled by a remote held by a spectator. The routine climaxes with the discovery of the same signed card inside the remote's battery compartment.
The Aspirin :
The opener and closer to Joshua's act—produce an aspirin bottle and later reveal a signed selection inside…without ever touching the bottle.
The Discreet Displacement :
This easy-to-do sleight can be used as a control, force, or switch. You'll learn several effects possible, including…
Discreet Displacement Collectors :
An in-the-hands version of this Roy Walton classic that takes place in less than a minute.
Ringin' Alarm :
A borrowed finger ring (and a ring finger—no joke) is discovered inside an alarm clock…just in the nick of time!
Plus: The Jay Change, D.D. Thought-Of Card, and lots more. Extra Feature :
"The Heckler," a short, fictional film written, starring, and co-directed by Joshua Jay. This is what happens when you mess with a magician

Return to the catalogue
This item is no longer
sold on Magicaplanet