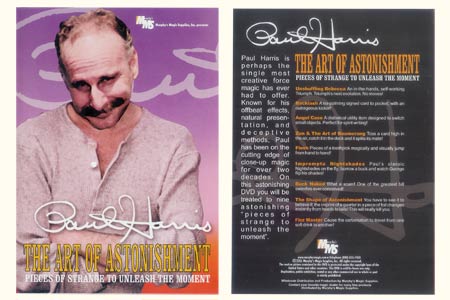 Description
Paul Harris
est sans doute le
magicien le plus créatif
des dernières années.
Célèbre pour ses
effets à contretemps
, ses présentations naturelles et ses
méthodes trompeuses
, Paul Harris a été pendant une vingtaine d'années l'un des magiciens de close-up les plus en vogue !
Retrouvez dans ce DVD
9 effets très surprenants
.
AU SOMMAIRE :
Unshuffling Rebecca.
Backlash.
Angel case.
Zen & The Art of Boomerang.
Flesh.
Impromptu Nightshades.
Buck Naked.
The Shape of Astonishment.
Fizz Master.
Langue :
anglais.

Return to the catalogue
This item is no longer
sold on Magicaplanet