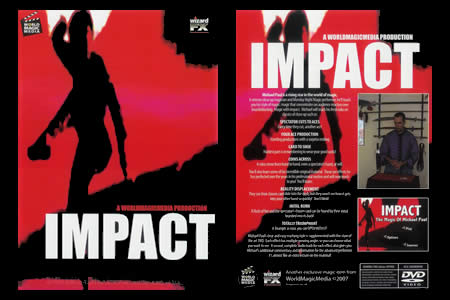 Description
Michael Paul est une star montante dans le monde de la magie.
Michael Paul vous transmettra son style de magie de manière à ce que votre public en reste le souffle coupé.
De la magie à fort impact. Michael vous apprendra ses réalisations personnelles de classiques du close-up comme les tours décrits ci-dessous.
Au sommaire :


Spectator Cuts the Aces:
Le spectateur réalise une coupe au centre du jeu et trouve un as. Pas de pli ou d'étranges procédés de coupe… Facile à réaliser et impromptu. Voici comment un spectateur devrait couper les cartes.


Four Ace Production:
Facile à préparer et à mémoriser. Voici une production d'as qui fonctionne parfaitement. Produisez trois as du jeu de façon visible, le quatrième apparaît de la façon la plus étrange qui soit… sur la table de façon clairement visible.


Card to Shoe:
Une carte signée disparaît des mains du spectateur pour réapparaître dans votre chaussure. Aucune préparation ni aucun change… la carte que vous sortez de votre chaussure est réellement la carte signée ! Faites-le avec n'importe quelle carte et n'importe quelle chaussure !


Coins Across:
Une routine de pièce qui nécessite la participation du public avec notamment une disparition très visuelle et un voyage de pièce dans la main du spectateur qui provoqueront la réaction de vos spectateurs.


Reality Displacement:
Une carte signée sauté instantanément du centre du jeu dans votre main. Un tour de cartes qui ressemble plutôt à un effet d'optique qui impressionera fortement votre public. Ils devront croire ce qu'ils verront.


Initial Burn:
Vous faites choisir une carte à un spectateur qui la signe puis la perd dans le jeu. Vous inscrivez alors ses initiales sur un morceau de papier que vous placez sur le dessus du jeu. Vous le brûlez et il disparaît… Lorsque vous étalez les cartes, un seule est noircie et la brûlure a la forme des initiales. C'est bien évidemment la carte choisie. Réalisez ce tour pour qui vous le désirez et laissez un souvenir inoubliable dans leur esprit.


Totally Triumphant:
Une routine de cartes en trois étapes qui laisse le jeu dans l'ordre (comme un nouveau jeu)! Préparez-vous à transcender votre magie… et ce sans ajouter de difficultés particulières.

L'enseignement clair et détaillé de Michael Paul est maintenant disponible grace à la technologie du DVD.
Chaque effet a different angles de vue de manière à pouvoir choisir ce que vous désirez voir.
Vous trouverez également les commentaries audio de Michael Paul utiles aux magiciens expérimentés. Une façon supplémentaire de lire ce DVD !



Langue
: Anglais,
Durée
: 1h00
Retour au catalogue