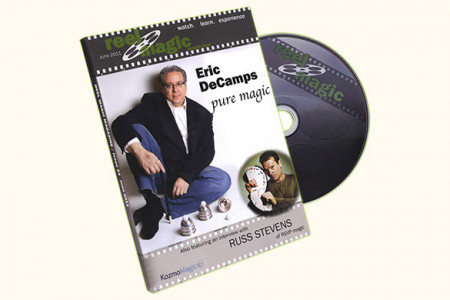 Description
Interview :
Eric DeCamps s'entretient avec Andrew Pinard sur la création d'un spectacle de magie moderne.
Russ Stevens de RSVP magic s'entretient avec Kozmo sur la fabrication et le marketing de la magie.
Chroniques :
Jon Armstrong - Sessions, Orlando Pt. 2
Kostya Kimlat parle d'un nouveau mouvement de "cigarette".
Garrett Thomas - Try this at home
Essayer quelque chose de nouveau avec le jeu Svengali
David Kaye - Kid Show FUNdamentals
Nous présente des baguettes vraiment stupides
David Roth - ROTH
Nous montre sa version du pop-up move

Reviews :
David Regal - Tricks of the Trade
David discusses tricks with "destructions"
Wayne Kawamoto - Choice Cuts
Reviews Stand & Deliver and Palms of Steel
Tours :
John Carey "Balducci as I Balducci" from Handle with Carey - RSVP magic
Lee Smith & Gary Jones "Kick back Kings" from iCandy - RSVP magic
Eric DeCamps "Ring & String" from Worlds Greatest Magic - L&L Publishing
Move Monkeys:
Jeff Prace "In & Out Force"
Carroll Baker "Pen Flick"
Kelvin Chow "Explosion"
Also Includes "Magicseen" (a European publication) PDF file
Durée : 2h3min
Retour au catalogue