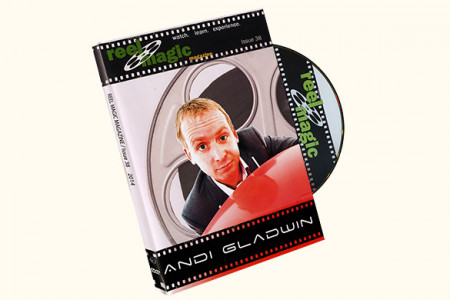 Description
Interview - Andi Gladwin :
Josh Jay s'entretient avec Andi sur le changement de carrière, l'éthique du vol de magie et ce qui le rend unique.
Chroniques :
Bill Wisch - Wisch on Slydini
Bill nous montre "Mixed" de Slydini.
Garrett Thomas - Try This! (at Home)
Garrett discute des options et des stratégies pour la "divergence classique".
Christian Painter - Mindtripping
Christian parle de "Magic Words".
Doc Eason - Behind the Bar
Doc et Kozmo donnent quelques conseils sur la manière de demander de l'argent lorsque vous travaillez dans la rue ou derrière le bar.
Reviews :
David Regal - Tricks of the Trade
David passe en revue quelques grands trucs révisés et est choqué par quelques "Merveilles électroniques".
Wayne Kawamoto - Choice Cuts
Wayne passe en revue le David Williamson's Ridiculous, ainsi que Hide & Seek et les classiques de la magie de la soie.
Kozmo - That's Ridiculous!
Kozmo présente quelques nouveaux articles et trucs ridicules du MagiFest.
Tours :
Mathieu Bich - "Houses & Diamonds"
from Mathieu Bich
David Williamson - "Easy Aces"
from Ridiculous
Andi Gladwin - "Misdeal"
from Vanishing Magic, Inc.
Move Monkeys:
Jess Cone - "Open Display & Flash Restoration"
Johnny Mass - "The Carwash Change"
Dale Mulhern - "Invisible Coin"
Retour au catalogue