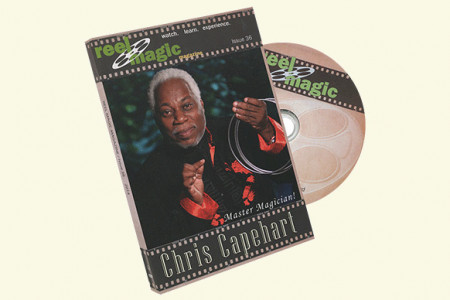 Description
Interview : Chris Capehart
Chris s'entretient avec Kozmo sur le perfectionnement de ses compétences dans la rue et sur la façon de gagner sa vie en faisant de la magie pour enfants.
Chroniques :
Bill Wisch - on Slydini
Bill nous montre un tour qui se fait en un clin d'œil.
Kainoa Harbottle - Coin U
Kainoa parle du "Dictionnaire visuel de l'architecture" et de la magie qui y est associée.
Christian Painter - Mindtrapping
Christian enseigne une routine de mentalisme facile avec des pièces de monnaie.
Doc Easton - Behind the Bar
Le Doc nous raconte ce qui s'est passé dans la deuxième partie du "work in progress".
Reviews :
David Regal - Tricks of the Trade
David nous rapporte que son tour a été déclaré le meilleur tour de la convention Magic Live !
Wayne Kawamoto - Choice Cuts
Wayne passe en revue le coffret 2 dvd d'Oscar Munoz.
Tours :
Losander "Static Energy" - From Losander
Mathieu Bich "Warm-Up Trick" - a Reel Magic Magazine Exclusive.
Ryan Schlutz "4 Shadowed" - from Trio - Reel Magic on Demand Plus
Retour au catalogue