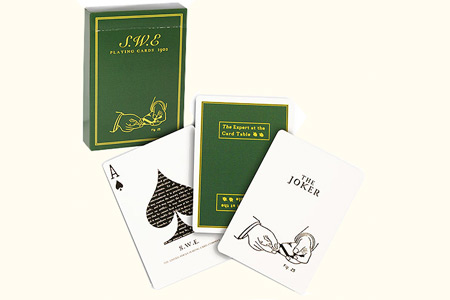 Description
Voici un jeu de cartes au design original rendant hommage au fameux livre "The Expert At The Card Table"!

Un véritable chef d'oeuvre artistique dédicacé à 100% à l'ouvrage !
Fabriqué par USPCC, ce jeu ne manquera pas de figurer dans votre collection !
Les faces du jeu sur fond blanc sont magnifiquement retravaillées en couleurs avec originalité, précision et dans les moindres détails !
Le joker représente la page 25 du livre parlant de la donne du dessous, l'as de pique comprend en son centre un paragraphe du livre !
Les dos à bords blancs sont magnifiquement retravaillés et représentent la page de couverture du livre "The Expert at The Card Table" !
L'étui de couleur vert représente également la couverture du livre !
Jeu original de 54 cartes
Qualité fini coussin d'air
Format Poker :
6,3 x 8,8 cm
Imprimées par United States Playing Card Company

Retour au catalogue