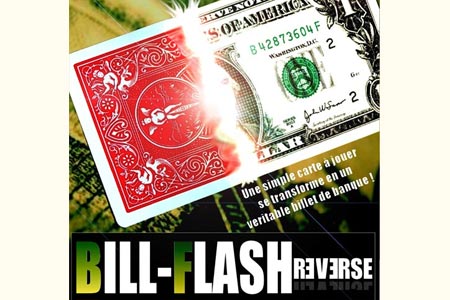 Description
Participer à un tour de magie est toujours un moment extraodinaire pour vos spectateurs, mais participer à un tour de magie avec de l'argent est un moment encore plus fort pour vos spectateurs !
Il y a queques temps de cela Chatelain avait créé un effet incroyable, son nom était: BILL FLASH CARD.
Aujourd'hui et pour la première fois en DVD, nous sommes heureux de vous proposer "BILL FLASH CARD REVERSE".
Sur la table se trouve votre jeu de cartes, encore dans son étui, avant de commencer sortez un billet de banque de votre portefeuille, par exemple un billet de 10 euros.
Posez visiblement le billet de 10 euros sur la table, tout en expliquant que le billet est une récompense pour le spectateur !
Récompense si, bien entendu, vous ratez le tour !
Puis posez simplement votre portefeuille sur le billet de 10 euros.
Attention : le tour va pouvoir commencer !
"Croyez moi sur parole, jamais les spectateurs ne seront aussi attentifs, il n'y a rien à perdre pour eux bien au contraire".
Sortez les cartes de l'étui, montrez le jeu recto-verso, il s'agit d'un jeu absolument normal.
Un spectateur choisit une carte par exemple le : Roi de cœur.
Invitez le spectateur à plier lui même sa carte en 4, prenez sa carte en main, celle-ci est toujours pliée en 4, et posez les 2 questions suivantes :
1 – Vous souvenez-vous du billet sous le portefeuille ?
Bien entendu les spectateurs vous répondront "OUI, c'est un billet de 10 euros".
2 – Vous souvenez-vous de votre carte ?
Une nouvelle fois les spectateurs vous répondront "OUI, c'est le ROI de cœur".
Montrez une nouvelle fois la carte en la dépliant, vous la montrez bien recto-verso sans aucune restriction, puis montrez également vos mains, vides aussi, et les spectateurs le constateront sans la moindre hésitation !
Repliez lentement la carte du spectateur, pliez là en deux, puis en 4, sans rien cacher, en pleine lumière et surtout devant les yeux de vos spectateurs, vous secouez une seconde la carte carte pliée en 4, et à peine le temps pour vos spectateurs de cligner des yeux que celle-ci s'est transformée en un billet, un billet plié en 4 également !
Dépliez ce billet, montrez le sans aucune restriction également, c'est un véritable billet !
Pas n'importe quel billet, un billet de 10 euros ! Comment est-ce possible ? Vous n'avez rien d'autre dans vos mains, elles sont totalement vides...
Une transformation fulgurante ! Où est passé la carte ?
Invitez votre spectateur à soulever votre portefeuille.
Je vous laisse maintenant imaginer la réaction de celui-ci.
En effet plus de billet sous le portefeuille mais une carte pliée en 4 !!!
Dépliez-la et montrez-la à la ronde, aussi impossible qu'incroyable, il s'agit du roi de cœur, la carte choisit au début du tour.
Une transposition des plus mystérieuses, un effet parfait en close-up !
Cet été, transformez vos cartes à jouer en de véritable billets !
Le texte ci-dessus est 100% fidèle à la réalité, vous allez pouvoir présenter ce que vous venez de lire !
Au début du tour, vous posez le plus simplement du monde un billet sous votre portefeuille, vous pouvez également le placer sous la main d'un spectateur, le résultat sera identique.
La transformation et,ou la transposition est AUTOMATIQUE ! Oui c'est difficile à croire mais pourtant VRAI !
Pas d'empalmage, pas de tirage, pas de FP, vous pliez la carte le plus lentement possible et celle-ci se transforme en véritable billet, aussi simple que ça !
La carte, ou le billet sont sans cesse montrés RECTO-VERSO, vous pouvez nous croire, il n'y a rien à voir !
Utilisez vos billets, Euros, Dollars, Livre Sterling, etc... Il s'agit bien de véritables billets.
Les deux effets sont vraiment incroyables pour vos spectateurs, imaginez : la carte se transforme à vue en billet et le billet placé sous le portefeuille s'est mystérieusement changé en carte, avouez que c'est très fort non ?
Le tour vous sera livré complet
Vous recevrez le gimmick "REVERSE" pour réaliser la transformation de la carte en un véritable billet.
Vous recevrez également un exemplaire du célèbre tour "BILL FLASH CARD".
En combinant ces deux effets, vous pourrez également présenter BILL FLASH CARD REVERSE.
Le tour sera livré avec un DVD explicatif (français / anglais) pour vous expliquer les moindres détails de la routine

Return to the catalogue


We advise you with this product :
1.
BICYCLE Deck
3 €