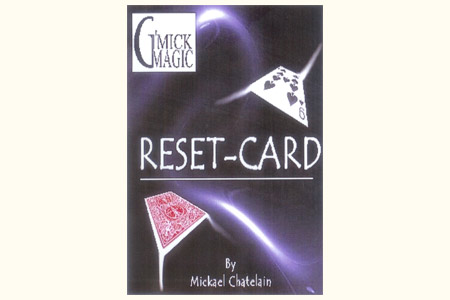 Description
Montrez un jeu de cartes recto-verso, le spectateur constate alors qu'il s'agit du jeu complet de
52 cartes différentes
!
Invitez le spectateur à choisir
librement
une carte dans votre étalement.
Invitez-le à
signer sa carte
!
Le tout se passe sous le nez du spectateur et
aucune manipulation
n'est possible !
Pour finir, invitez le spectateur à remettre sa carte
face en bas
dans le jeu face en haut, le spectateur replace lui-même sa carte à
l'endroit de son choix
et la laisse dépasser vers l'avant du jeu.
Vous tenez le jeu dans la paume de votre main gauche, tandis que votre main droite passe
légèrement devant
et en moins de temps qu'il ne faut pour le dire la carte choisie et signée, remonte à vue sur le dessus du jeu alors que le spectateur l'a inséré lui-même dans le jeu !!
Retournez là, c'est bien la carte du spectateur, celle qu'il a signé !
Aucun forçage.
Tour automatique très visuel.
Reset immédiat.
Return to the catalogue


We advise you with this product :
1.
Ambitieuse Ultra visuelle
25 €

2.
Awatenaï Awatenaï
45 €