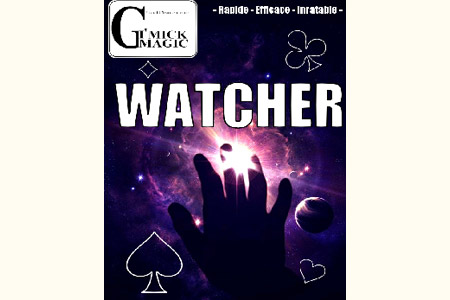 Description
Il s'agit d'un gimmick très astucieux et surtout invisible qui vous permet d'imaginer pleins d'effets . . .
1ère routine possible :
Sortez de votre poche un jeu complet de 52 cartes, demandez au spectateur d'examiner vos cartes, rien à voir puisqu'il s'agit d'un jeu absolument ORDINAIRE !
Expliquez lui ce qu'il va devoir faire pendant que vous lui tournerez le dos :
Mélanger et couper le jeu autant de fois qu'il le désir puis sortir une carte, n'importe laquelle bien entendu, mettre cette carte dans l'étui et enfin fermer l'étui !
Une fois que le spectateur a bien compris, vous tournez le dos aux opérations ! Au bout de quelques secondes, le spectateur vous informe que tout est OK ! Vous vous retournez, prenez les 51 cartes en mains et les passez en revue une seule et unique fois ..... et en moins de 5 secondes, vous êtes capable de dire la carte qu'il manque dans le jeu ! Celle qui complète le jeu, la carte du spectateur !
Invitez le spectateur a sortir la carte qu'il a mis dans l'étui .... c'est EXACT !!! Comment avez-vous fait, en quelques secondes seulement, pour deviner le nom de la carte manquante ?
Vos spectateurs se le demanderont longtemps !
2ème routine possible :
Cette fois-ci vous faites face au spectateur... Sortez de votre poche votre jeu, et comme précédemment, vous invitez le spectateur à mélanger votre jeu.
Invitez le maintenant à choisir librement une carte... pas le moindre forçage, le spectateur peut changer son choix autant de fois qu'il le souhaite ! Bien entendu le spectateur ne vous montre pas sa carte... Celle-ci est perdu dans le jeu le plus simplement du monde.
Montrez que la carte n'est pas au dessus du jeu, pas en dessous... Rangez le jeu dans son étui et confiez le au spectateur...
Même dans ces conditions là, vous serez capable de deviner le nom de la carte que le spectateur avait choisi précédemment !
WATCHER ne s'arrête pas à ces 2 routines
expliquées et livrées avec le gimmick . . . WATCHER est un outil professionnel qui sera toujours là quand vous en aurez besoin !
Le gimmick est soigné et fabriqué un à un par Mickael en personne, vu la précision de fabrication WATCHER est en quantité limitée ( – de 300 pièces )
A retenir :


Watcher est automatique
Ne demande aucun exercice de mémoire ou de calcul
Pas le moindre forçage, pas de chapelet, pas de préparation
Utilisez votre jeu ordinaire
Pas d'échange de carte
, la carte que le spectateur cache dans l'étui est bien la même qui en est ressortie
Le gimmick vous suivra partout en close-up, il est invisible, utile et efficace

Return to the catalogue


You can find this magic item in :
1.
Coffret Painting/Watcher/INK
70 €