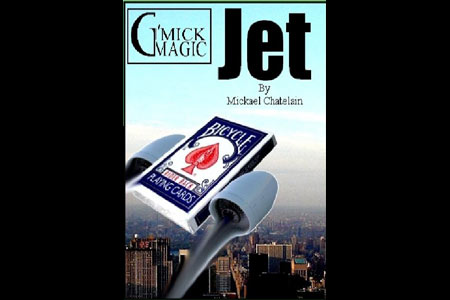 Description
Voici une nouvelle création magnifique de
Mickael Chatelin. Bernard Bilis
l'a présenté au plus grand cabaret du monde. Jet-card est un véritable
bijoux
! Il possède une mécanique et un secret tellement
bluffant
qu'il vous étonnera à chaque représentation !
Le magicien sort un jeu bicycle de 52 cartes de son étui, il propose aux spectateurs de bien examiner cet
étui qui n'a ni trou, ni trappe, RIEN !
Un spectateur sélectionne
librement
une carte ! Celle-ci est
signée
par le spectateur et est ensuite perdue dans le jeu ! Avant de ranger les cartes dans l'étui, le magicien propose au spectateur de
mélanger lui même les cartes !
Le jeu est alors récupéré et rangé à l'intérieur de son étui qui est aussitôt
refermé !!
Le magicien tient l'étui entre deux doigts, et commence à compter.
Un, Deux, et Troissss !!
A trois, une carte est
propulsée en dehors du jeu, alors que l'étui reste complètement fermé !
Le spectateur récupère alors la carte et constate qu'il s'agit bien de
sa carte signée !
Le magicien sort de nouveau le reste du jeu pour le donner à l'examen !
Effet incroyable
Facile à réaliser
Etui Gimmick + carte gimmick
Qualité bicycle
Format poker

Return to the catalogue


We advise you with this product :
1.
DVD Nestor Hato + Nestorizer
49 €

2.
Loops
15 €