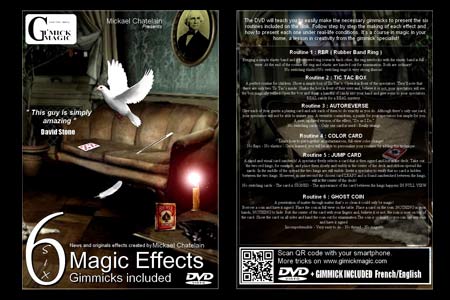 Description
Il ne s'agit pas d'un tour mais d'un DVD qui contient 6 effets, 6 routines personnelles de Mickael.
Ce DVD vous apprendra à réaliser facilement les gimmicks nécessaires pour présenter correctement les 6 tours inclus dans le DVD !
Suivez pas à pas le secret de fabrication de chaque effet et découvrez comment présenter chaque tour en conditions réelles !
Un véritable cours de magie chez vous, un cours de création avec le spécialiste des gimmicks !
Tout le matériel nécessaire pour la fabrication est inclus dans la boîte du DVD ! Il ne vous faudra que quelques minutes pour fabriquer et personnaliser vos gimmicks !! Fabriquer vos effets deviendra alors un jeu d'enfants !
Voyons maintenant le descriptif précis des 6 effets inclus dans ce DVD :

EFFET n° 1 : RBR "Rubber Band Ring"
Un simple élastique et une bague emprunté, approchez la bague de l'élastique et celle-ci s'enclave à vue sur celui-ci !
A la fin de la routine, bague et élastique sont immédiatement donnés à examiner ! Ils sont ORDINAIRES !
- Pas de change d'élastique
- Pas de change de bague
- Une illusion vraiment très forte !
EFFET N° 2 : TIC TAC BOX
Une routine parfaite pour les enfants ! Montrez une simple boite de bonbons Tic Tac, ouvrez la devant vos spectateurs.
Ils constateront qu'il ne reste que 2 bonbons à l'intérieur, secouez la boite devant leurs yeux et croyez le ou non, vos spectateurs
verront la boite de bonbons se remplir à nouveau !
Ouvrez et verser une poignée de bonbons dans votre main, et donnez en à vos spectateurs, de VÉRITABLE BONBONS pour un VÉRITABLE MYSTÈRE !
- Facile à présenter
- Utilisez votre boîte de TicTac
- Idéal à présenter à des enfants
EFFET N° 3 : AUTOREVERSE
Donnez à chacun de vos invités une carte à jouer et demandez leur de faire exactement la même chose que vous.
Bien qu'il n'y ait qu'une seule carte, vos spectateurs ne parviendront jamais à vous imiter ! Une CURIOSITE, un casse-tête pour vos spectateurs, et pourtant
si simple et facile pour vous !
Une version revue et corriger du célèbre effet : "Faites comme moi" !
- Pas de change de carte
- Une seule carte est utilisée
- VRAIMENT CURIEUX
EFFET N° 4 : COLOR CARD
Apprenez une méthode de fabrication qui vous permettra de changer la couleur de vos cartes à vue et d'une manière très rapide !
- Pas de flap
- Pas d'élastique
- Une fois la méthode comprise, vous pourrez personnaliser vos routines, vos effets, en y ajoutant cette technique !
EFFET N° 5 : JUMP CARD
Un effet de carte sandwich très rapide et visuel ! un spectateur choisit librement une carte et la signe, celle-ci est alors perdue dans le jeu.
Sortez de votre jeu les deux rois rouges, par exemple, placez les lentement et visiblement dans le centre du jeu et étalez les cartes en un ruban.
Au milieu du ruban, les 2 rois sont toujours visibles, invitez un spectateur à contrôler qu'aucune carte n'est cachée entre eux deux. Pourtant en
1 seconde la carte du spectateur SAUTE et se retrouve PRISE EN SANDWICH entre les rois, toujours au centre du jeu !!!
- Pas de change de cartes
- Carte signée
- Apparition entre les rois à vue
EFFET N° 6 : GHOST COIN
Un passage au travers la matière tellement clean qu'il ne peut s'agir que de MAGIE !
Empruntez une pièce de monnaie et demandez à ce qu'elle soit signée. Posez cette pièce bien en vue sur la table,
posez une carte à jouer sur cette pièce. RIEN dans les MAINS, RIEN à CACHER ! Frottez le centre de la carte avec vos doigts et croyez le ou pas,
la pièce de monnaie qui était sous la carte se retrouve maintenant sur la carte ! montrez la carte de tous les côtés, et donnez la pièce à l'examen !
- Pièce ordinaire, vous utiliserez n'importe quelle pièce, signée.
- Incompréhensible
- Très facile à présenter, pas de fil, pas d'aimants.

Return to the catalogue





You can find this magic item in :
1.
Lot DVD Six Magic Effects et Six 2.0
49.5 €

We advise you with this product :
1.
BICYCLE Deck
3 €

2.
Lot DVD Six Magic Effects et Six 2.0
49.5 €