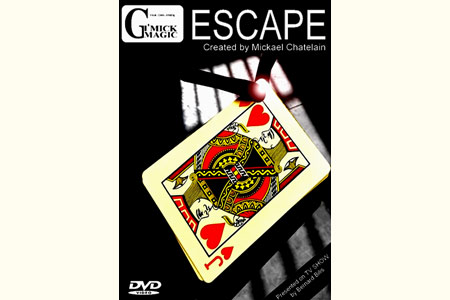 Description
Donnez à examiner à votre entourage un ruban d'une cinquantaine de centimètres. Invitez alors vos spectateurs à tirer dessus et à vérifier qu'il s'agit d'un simple ruban sans le moindre trucage.
Montrez à présent votre jeu de cartes, un simple jeu avec 52 cartes toutes différentes.
Vos spectateurs constateront vite que votre jeu est troué dans le coin en haut à gauche : 52 cartes, 52 trous !
Expliquez à vos spectateurs que dans quelques instants ils devront passer le ruban au travers des 52 cartes et faire, le plus solidement du monde, un nœud de manière à emprisonner toutes les cartes !
Invitez alors un de vos spectateurs à sélectionner une carte dans votre jeu, puis invitez le à montrez sa carte à son entourage.
La carte choisie est perdue dans le jeu à l'aide de plusieurs mélanges.
Comme prévu au début du tour, invitez votre spectateur à passer le ruban au travers du jeu, et demandez lui de faire un nœud bien solide, un double nœud même !
Il est maintenant totalement impossible de changer l'ordre des cartes et vos spectateurs le constateront sans problème !
Montrez l'ensemble de tout coté à vos spectateurs, et tenez le jeu face en l'air devant vos spectateurs.
Le jeu est toujours là ? Le nœud est bien solide ? La carte choisie est toujours dans le jeu ?
Sur ces 3 questions, passez rapidement votre main devant le jeu, et croyez le ou pas, la carte du spectateur se retrouve en 1ère position, sur la face du jeu !!!!!
Vos spectateurs peuvent immédiatement vérifier l'ensemble...
Comment est-ce possible ?
Comment la carte choisie peut-elle s'évader du centre du jeu et se placer en première position alors que le ruban maintien solidement les cartes ?
Un examen minutieux par vos spectateurs ne révèlera rien, le mystère n'en sera que plus épais !
Imaginez la suite...
Alors que le spectateur vient de terminer l'examen du jeu, vous passez une nouvelle fois votre main devant la carte du spectateur.
Et une nouvelle fois, l'impossible se passe...
La carte du spectateur est maintenant libre !!! OUI la carte du spectateur est la seule carte à s'être évadée du ruban et du nœud !
Donnez la carte à l'examen, il n'y a rien, absolument rien à voir, le trou de la carte est intact...
Un passage de la matière au travers la matière... un mystère insondable !
Pas de manipulation
Une apparition et une évasion complètement impossible
Le gimmick s'occupe de tout pour vous, et croyez nous, vous allez adorez
Le DVD vous expliquera les différentes routines et les différentes méthodes
Vous pouvez ne présenter que la première partie du tour (la carte ambitieuse) sans présenter l'évasion
Le tour est livré complet (jeu de cartes, ruban, gimmick et DVD explicatif)
Le 25 mai 2013, Bernard Bilis en personne présentera ESCAPE au plus grand cabaret du monde sur FRANCE2

Return to the catalogue


We advise you with this product :
1.
Sharpie permanent marker
3 €