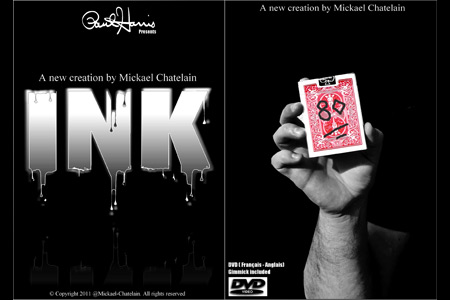 Description
"INK est un incroyable gimmick qui vous permet de présenter des transformations jusqu'à présent impossible à réaliser... sans rien cacher et en pleine lumière, devant vos spectateurs."
Paul Harris
travaille avec différents créateurs dans le monde entier, aujourd'hui et pour la première fois en France, c'est avec
Mickael Chatelain
qu'il a décidé de travailler !
Le résultat est tout simplement incroyable...
Imaginez la scène suivante :
Sortez votre jeu de 52 cartes de son étui, un jeu ordinaire que vous donnez à l'examen.
Invitez alors un spectateur a choisir une carte dans votre jeu, cette carte reste bien en vue de tous face en bas sur la table ou dans la main du spectateur.
Rangez le reste des cartes dans l'étui et dessinez une prédiction sur le cellophane de celui-ci...
Une prédiction réalisée avec un marqueur noir effaçable.
Le moment de vérité arrive lorsque vous montrez votre prédiction !
Le spectateur ne manquera pas de vous faire remarquer que vous vous êtes trompés, et que par conséquence votre prédiction est fausse...
En effet le spectateur a en main le 4 DE CŒUR ! Alors que votre dessin est L'AS DE TREFLE !
Demandez au spectateur de bien regarder votre dessin...
Croyez le ou pas, en pleine lumière, votre dessin commence à changer... Une sensation visuelle impossible à décrire !
Le spectateur voit très nettement l'encre apparaitre, disparaitre, bouger, etc... En moins de 20 secondes votre prédiction initiale a complètement changé !
Le spectateur voit maintenant le nom d'une carte sur votre étui... SA CARTE !!!! Le 4 DE CŒUR !!!
Le spectateur lui même pourra effacer votre prédiction, il pourra également examiner votre étui... il n'y a rien à voir !
" INK ne s'arrête pas juste à une prédiction de carte... "CARTES... NOMBRES... INITIALES... SYMBOLES... DESSINS, etc...
Personnalisez à l'infini votre INK !!!
Vous avez bien lu... la seule limite est votre imagination !
De plus, tout vous sera expliqué dans le DVD qui accompagne le gimmick : le principe magique mis en œuvre ainsi que la meilleure manière de l'utiliser !
Nul doute que vous trouverez d'autres applications toutes aussi incroyables !
Très facile à mettre en place et à présenter
Reset en moins de 20 secondes
Personnalisable à l'infini
Utilisable en Bicycle Rider Back rouge
Pas de produits chimiques, pas de source de chaleur, etc
DVD en Français et anglais + GIMMICK
Le DVD qui accompagne INK contient plusieurs routines réalisables immédiatement avec votre gimmick.
Vous y découvrirez également plusieurs changes immédiatement réalisables...
Et quelques petites idées bonus que vous pourrez pratiquer immédiatement avec votre INK !

Return to the catalogue


You can find this magic item in :
1.
Coffret Painting/Watcher/INK
70 €

We advise you with this product :
1.
Sharpie permanent marker
3 €