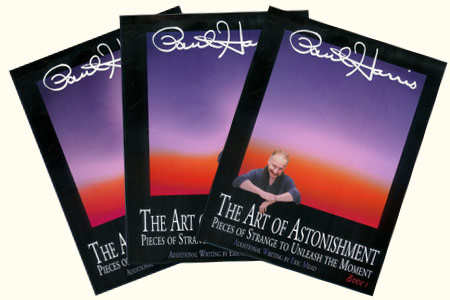 Descripción
Voici les trois volumes de la série The Art of Astonishment de Paul Harris contenant tous les meilleurs effets de Paul Harris, ainsi que 73 nouveaux tours. Au total 222 effets regroupés en 3 volumes !

Retrouvez également 6 conversations avec Eric Mead au sujet d'effets très mystérieux.

Volume 1 :

Light and Heavy Dime (like the "Card on the Ceiling" with a dime), Lip Balm (a coin box effect), Ultimate Rip-Off (torn and restored card), Creation (production of a live moth), Shell Shock (a marked coin in an egg), Tunnel Vision (a disappearing illusion), et plus encore...

Volume 2 :

Counterfeit Spectator (on a borrowed dollar bill, the printed signature of the U.S. Treasurer transforms into the spectator's name), Swiss Movement (animate an ungimmicked Swiss army knife), Cincinnati Two-Faced Blues (an advertising card turns into a real object), Fizz Master (carbonation travels from one liquid to another), McGimmick (levitate a milkshake using only your finger, then vanish it), Osmosis (linking card routine), et plus encore...

Volume 3 :

Shape of Astonishment (imprint of a quarter on a piece of foil instantly changes from heads to tails), Hot Chocolate (a flat Hershey wrapper instantly inflates to the real thing), Anything Deck (unusual prediction effect), Peanut Butter and Jellyfish (impromptu levitation), Bat Fishing (match eight selected cards to eight dollar serial numbers), Leaf (torn and restored houseplant), Shuffling Lesson (get a spectator to unknowingly shuffle, cut and deal a winning hand), et plus encore...

Langue : anglais – environ 300 pages par volume.

Volver al catálogo