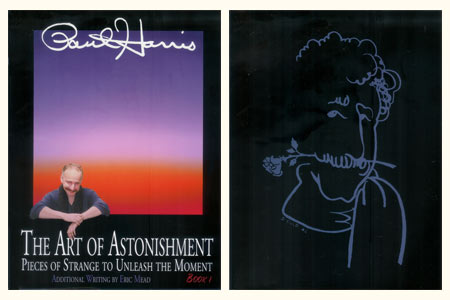 Descripción
Voici le premier des trois volumes de la série The Art of Astonishment de Paul Harris contenant tous les meilleurs effets de Paul Harris, ainsi que 73 nouveaux tours !

AU SOMMAIRE :

NEW STUFF

Buck Naked
Unshuffling Rebecca
Light and Heavy Dime
Backlash
Improv
Nightshades
Apple
Lip Balm (Kechter/Liwag/Mead/P.H)

FIRST PIECE (1973)

P.H Vanishing Deck

THE MAGIC OF PAUL HARRIS (1976)

My Diner with P.H (Looy)
Illusion
Color Stunner
Flip Flop Plop
Bayberry Bag Swindle
Think of a Card
Deep Throuht (Cosby) (1996)
Silver and Aces (revised)
Giant Killer Coin
Rip-Off Reverse
Flash Fold

PAUL HARRIS REVEALS SOME OF HIS MOST INTIMATE SECRETS (1976)

La La's Lu Luaka The Phantom aka Cue Cards Etc. (revised)
The Dehydrated Deck
The Bizarre Twist
The Curly-Cue Move (Holt)
Solid Deception

SUPER MAGIC (1977)

Ultimate Rip-Off
Ultimate Rip-Off : Dancing with the Last Piece (1996)
Double Monte
Earth Shoes (Looy)
Grasshopper (revised)
Open
Revelation (revised)
Three Way Display
Machine-Gun Aces (Blencoe/Eng)
Pain (Eng)
Re-Set
Re-Set Options
Torn and Restored Coin
Las Vegas Split
Flash Contro
Ace Trap
Hi-Ho Silver
Vacuum Cleaner Cards

LAS VEGAS CLOSE-UP (1978)


Care and Feeding of P.H (Martinez)
Stapled (P.H/Looy)
Over Exposure
Absorption
Aero-dynamic Dollar (O'Lenick)
Las Vegas Leaper
Leap of Faith (Malone) (1996)
New Twisted Collectors (Wagner/Ackerman)
Gambler vs Mentalist vs Magician
Looy's False Count
Silver Slide
Cros Twist
Cardician's Blendo
Invisible Rising Card
Paper Chase (P.H/Cros)
Korem's Card to Tie
Perpetual-Motion Coin Myth
Interlaced Vanish
Interlaced Space (1996)
UnCanny (Steinmeyer/Looy/P.H)

MISC. PIECES OF PAUL (1985)
Air (1985)
Classic Eleven Card Trick (1986)
Cheap Juggler (1986)

ASTONISHING FRIENDS

Creation (Martin)
Griffin Under Glass
Silver Mirage (Blencoe)
Within your Reach (Mc Candless)
Grippo's Wish
Orange (Re-peeled by Neale)

GREGORY WILSON

Who the Heck is Gregory Wilson?
Wilson on P.H
License to Thrill (Wilson)
411 (Wilson)
Shell-shock (Wilson)
Vanish 5000 (Stein)
Molotov Cocktail (Wilson)
ReCap (Wilson)
Minch on P.H

CONVERSATIONS FROM THE EDGE

Tunnel Vision
House Guest

Langue : anglais – 310 pages illustrées.

Volver al catálogo