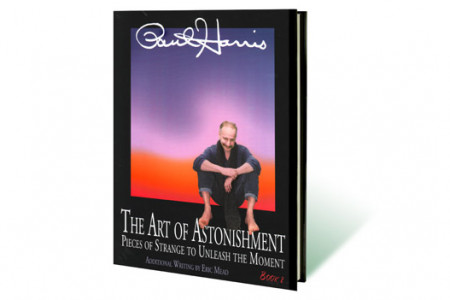 Descripción
Voici le second des trois volumes de la série The Art of Astonishment de Paul Harris contenant tous les meilleurs effets de Paul Harris, ainsi que 73 nouveaux tours

AU SOMMAIRE :

NEW STUFF

Counterfeit Spectator
Swiss Movement
Lysdexia
Flesh
Angel Case
Putty Buddy
Putty Buddy's Pal
Strange-O
Hiccup
Twinkie Bottle (Tanner/P.H)
Fluffer Deck
Mc
Gimmick
Cincinatti Blues
Cincinatti Two-Faced Blues
Skin
Job (P.H/Mead)
Fizz-Master (P.H/Mead)

CONNECTIONS

Cardboard Connection (1977)
Immaculate Connection (1983)
Osmosis (Mirouf) (1996)

CLOSE-UP ENTERTAINER (1979)

Specail
Interview
PDQ 2
Four-Finger Finalé
Drop-Shot
Face-Lift (Ackerman)
Peeler
A Subtle Poker Move (revised)
Blackjack
Challenge
El Warpo
Betz Poker-Roll
Silver Elevator
Quarter Caper
Stretch (revised)
Kinky Pinky (The Kidd)
Blind Peek (The Peek)
Side-Winder
King Solomon's Drink
Castle Conspiracy
Wax Lips
Cellophane Surprise (Okawa)
Pinochle Solution

CLOSE-UP FANTASIES 1 & 2 (1980)

Mary on P.H
Overkill (Ackerman/Emberg/Marlo)
Traveling Triumph
Fantasy Aces (P.H/Daryl)
England's Penetration (revised)
Sliding Ink
Flapjacks (Daryl/P.H)
Pre-Mixed Flapjacks (Miller)
Double Decker
Million Dollar
Mindreader (Lackey)
Tuning Fork
Breaking Point (Looy/P.H)
Stamped Second (Lewis/P.H)
Stuck! (Voltz) (1996)
Super Sack (Deitrich/Tanner)
Ucut Version
Floating Deck
How to Pop a Floating Deck (Srechko)
Time Machine

MISC. PIECES OF PAUL

House Cleaning ( 1985)
Up the Ladder (1985)
Laws of
Lapping (1985)
Twilight (Casel/P.H)
Super Twilight (Cros) (1983)
Cheapshot Boomerang (1986)
Mr Lucky (1985)
Butt of Course (1985)
Super Swindle (1977)

ASTONISHING FRIENDS

Tenkai Joe (Blencoe)
The Incredible Mystery of the 10th
Card (Mead)
Tensegrity (Snowden)
The Altman Maneuver
Flutter (Kennedy)
Eng's Bottles
Harkey on P.H

CONVERSATIONS FROM THE EDGE

Carpet Critters
Collapsing Marble Myth

Langue : anglais – 320 pages illustrées.
Volver al catálogo