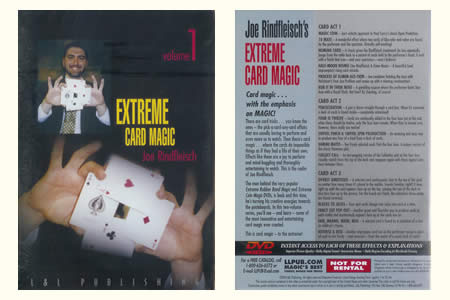 Descripción
Il existe des tours de cartes... vous connaissez bien évidement les trop connus "prenez une carte, n'importe quelle carte" qui s'avèrent ennuyeux à réaliser et encore plus à regarder.
Puis il y a la magie des cartes... où les cartes réalisent des exploits inconcevables comme si elles contrôlaient leur vie.
De tels effets sont un plaisir à réaliser et s'avèrent époustouflants et totalement divertissants à regarder. Voici en quoi consiste l'
art de Joe Rindfleisch.
L'homme qui se trouve à l'origine du célèbre DVD Extreme Rubber Band Magic et du très connu Extreme Coin Magic, est de retour et cette fois il dirige son esprit créateur vers la magie des cartes.
Dans cette série en deux volumes vous trouverez quelques uns des
tours de cartes les plus inventifs et divertissants
jamais inventés.
Voici la magie des cartes – poussée à l'extrème !
Au sommaire :


CARD ACT 1

Magic coin
L'approche éclectique de Joe du classic Open Prediction de Paul Curry.

10 Mate
Un effet merveilleux dans lequel deux cartes de couleur et de valeur identique sont retrouvées par le magicien et le spectateur. Presque automatique !

Homing card
Un classique revu et corrigé par Rindfleisch ! Un as sur la table revient sans cesse dans le paquet de cartes que tient le magicien. La fin de ce tour est si étonnante que vous et vos spectateurs n'en croirez pas vos yeux !

Half-moon rising (Joe Rindfleisch & Gene Maze)
Une magnifique (et impromptue !) lévitation de carte.

Process of elimin-ace-tion
Joe associe le tour Twisting the Aces avec le Four Ace Problem de Hofzinzer et obtient un résultat surprenant !

Rub it in their nose
Un pari surprenant dans lequel le magicien mélange quatre as et obtient une suite impériale… Comment ? En dupant bien évidemment !



CARD ACT 2

Penciltration
Le magicien enfonce un crayon dans un étui de cartes, il le retire, ouvre le paquet et en ressort un jeu intact !

Four is twelve
Des cartes sont plusieurs fois ajoutées aux quatre as. Alors qu'il devrait y avoir douze cartes, il n'y a que les quatre as. Cependant lorsqu'on les retourne il y a bel et bien douze cartes.

Swivel pinch & swivel spin production
Une façon étonnante et facile de produire un quatre quel qu'il soit à partir d'un jeu de cartes.

Gemini mates
Deux cartes choisies retrouvent les quatre as. Une version unique du classique Hamman plot.

Collect call
Une version époustouflante des Collectors plot dans laquelle les quatre as disparaissent visiblement du dessus du jeu pour réapparaître avec trois cartes signées et choisie entre chaque.



CARD ACT 3

Overly ambitious
Une carte choisie revient sans cesse sur le dessus du jeu quel que soit le nombre de fois que l'on la place au milieu… Cela vous dit quelque chose... seulement jusqu'à ce que la carte apparaisse face visible sur le dessus du jeu et retournant par la même le reste du jeu. Pour un final qui vous achèvera... les trois cartes correspondant à celle choisie sont retrouvées retournées.

Blacks to jacks
Quatre cartes se changent en valet les unes après les autres.

Fancy cut pop out
Encore une superbe et étonnante façon de produire des cartes alors qu'elles apparaissent toutes face visible à l'endroit des coupes.

Enie, Meanie, Mieni, Moe
Une carte choisie est retrouvée en récitant une chanson pour enfant.

Reverse & rise
Une nouvelle lévitation de carte impromptue puisque le magicien laisse la carte choisie léviter par elle-même.



Langue
: Anglais,
Durée
: 1h35
Volver al catálogo