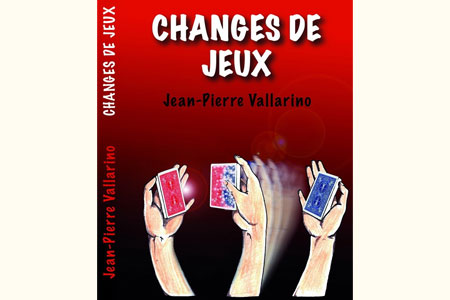 Description
Découvrez le troisième et dernier volume de la plus riche collection de DVD en français jamais proposée sur la magie des Pièces, signée Jean-Pierre Vallarino !
Vous découvrirez dans ce DVD, une série de
8 routines et effets visuels très efficaces
que vous pourrez réaliser à l'aide des techniques apprises dans les deux premiers volumes et celles présentées ici.
Vous apprendrez notamment une technique de Sleeving, accessible et efficace, qui vous permettra de réaliser de toutes nouvelles productions et disparitions de pièces
Les explications claires et pédagogiques, accompagnées d'angles de caméras judicieusement choisis vous permettront de progresser efficacement, à votre rythme.
Au Sommaire :

- Apparition de Pièces
: cette production très visuelle de quatre pièces à l'aide de quatre cartes à jouer, est simplement idéale avant la réalisation d'un Matrix.
-
Disparition au Foulard
: Une disparition très simple à réaliser d'une ou plusieurs pièces à vue, à l'aide d'un foulard. Vos mains, ainsi que le foulard, sont complètements vides à la fin de l'effet !
-
Disparition au Pantalon
: Cette disparition sortie tout droit de l'esprit de Dai Vernon vous étonnera par son fonctionnement.
-
Le Sleeving
: Débutez dans le domaine du Sleeving à l'aide d'une technique accessible et efficace sélectionnée par Jean Pierre.
-
Apparition du Verre
: Surprenez vos spectateurs en faisant apparaître, à l'aide d'un jeu de cartes, une pièce Jumbo…. Et un petit verre plein !
- Pièce à travers la Table
: Une célèbre routine, devenue incontournable, durant laquelle vous ferez passer, une à une, quatre pièces à travers une table.
-
Matrix 1 (Avec Gimmick)
: Quatre pièces voyagent sous une même carte avant de reprendre leur place en une fraction de seconde aux quatre coins de la table ! Vous serez d'autant plus impressionnés par la routine quand vous découvrirez sa grande simplicité d'exécution.
-
Matrix 2 (Sans gimmick)
: Une seconde version de Matrix toujours aussi fluide et visuelle de Jean pierre Vallarino qui ne vous demandera, cette fois, aucun gimmick. Comme pour la version précédente, les quatre pièces retrouvent en un instant leur position d'origine en fin de routine, aux quatre coins de la table.
Bonus
:
Découvrez l'explication de la routine «Pièces et Baguette » présentée dans le volume 2.
DVD accessible aux débutants
En Français
Durée 60 min

Return to the catalogue






We advise you with this product :
1.
T.U.C. Half dollar + DVD
79.5 €
Articles of the same author:
Jean-Pierre Vallarino