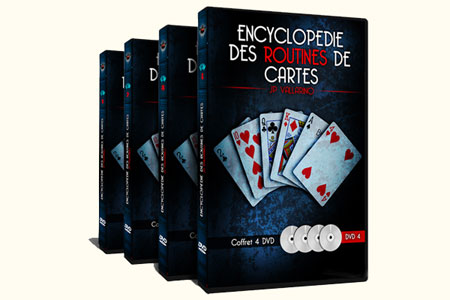 Description
Passionnés et Professionnels, ce pack est pour VOUS !
Plus besoin d'acheter cinquante DVD pour posséder les tours de cartes qui ont le plus d'impact, Jean-Pierre Vallarino a travaillé pour vous et a rassemblé 70 routines triées, décortiquées, et choisies sur plus de 500 effets bien connus du monde des Magiciens !
Des tours automatiques aux tours techniques, cette nouvelle Encyclopédie d'Arteco PRODUCTION va vous ravir par sa diversité ! Un Jean-Pierre Vallarino toujours plus pédagogue !
Pour vous faire plaisir ou pour faire plaisir à un proche, n'hésitez plus et procurez-vous ces 4 DVD à un tarif exceptionnel et devenez le roi des cartes !
Au Sommaire :

DVD Volume 1 :
Introduction
Vietnam
Sous la table
Quinte flush
Out of the world
Rouges et noires
Les 4 prédictions
Calculator
Carte au nombre
Coïncidence
DVD Volume 2 :
L'Huile et l'eau
As leader 1
As leader 2
Change au verre
Sous et sur le verre
Dans le verre
Les 4 verres
Production d'as
Coupe sur les as 1
Coupe sur les as 2
Reset
A travers la table
Canibale
As gangster
Sur les manches
Triomphe 1
Triomphe 2
Triomphe 3
Triomphe 4
DVD Volume 3 :
Carte générale
4 as 4 rois
Change de couleur
Quinte flush
3ème oeil
Les témoins
Transformiste
Apparition d'as
Carré dans l'étui
As à la baguette
Trio
Les 3 cartes
Le paquet se retourne
Sandwich zig zag
Sandwich au ruban
sandwich détective
Sandwich tombant
Paradoxe
Collector
Carte ambitieuse
DVD Volume 4 :
2 rouges 2 noires
4 en 1
Ballayage
Les 5 chances
Sur l'étui
Sandwich magique
Transposition
Traveler 1
Traveler 2
Visitors
Cartes sous le Foulard
As aux Poches
As aux Poches 2
Carte au portefeuille KAPS
Paquet à la poche
Triomphe miraculeux
Coupe parfaite
Glass Aces
Les billets blancs
Lot de 4 DVDs
DVDs en Français
Par JP Vallarino

Return to the catalogue






We advise you with this product :
1.
BICYCLE Deck
3 €
Articles of the same author:
Jean-Pierre Vallarino