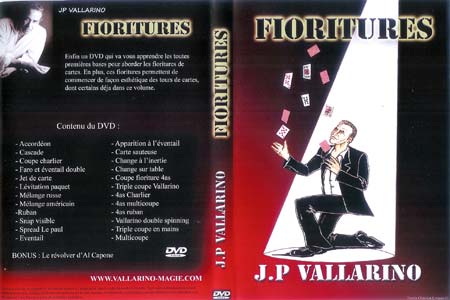 Description
Enfin un DVD qui va vous apprendre les toutes
premières bases
pour aborder les fioritures de cartes.
Ces fioritures permettent de commencer de façon
très esthétique
des tours de cartes. Les fioritures sont des
figures incroyables
réalisées avec des cartes qui ont pour habitude d'
impressionner
le public.
Si vous maîtrisez quelques-unes de ses fioritures, vous pourrez prouver à vos spectateurs que vous êtes un
bon manipulateur…
Au Sommaire
:
Accordéon
Cascade
Coupe charlier
Faro et éventail double
Jet de carte
Lévitation paquet
Mélange Russe
Mélange Américain
Ruban
Snap Visible
Spread le Paul
Eventail
Apparition à l'éventail
Carte sauteuse
Change à l'inértie
Change sur table
Coupe fioriture 4 As
Triple coupe Vallarino
4 As Charlier
4 As multicoupe
4 As ruban
Vallarino double spinning
Triple coupe en mains
Multicoupe
Return to the catalogue




We advise you with this product :
1.
BICYCLE Deck
3 €

2.
TECHNO Cartes
12 €