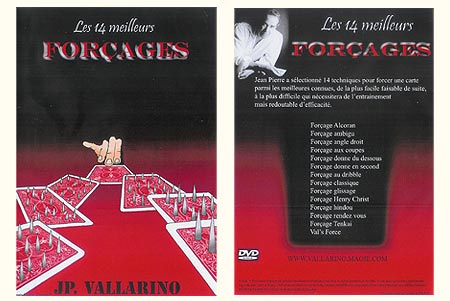 Description
Jean-Pierre Vallarino a sélectionné
14 techniques
parmi les plus connues pour forcer une carte.
Retrouvez dans ce DVD ses techniques, de la plus facile, faisable de suite, à la plus difficile qui nécessitera de l'entraînement mais sera redoutable d'efficacité.
AU SOMMAIRE :
Forçage Alcoran
Forçage Ambigu
Forçage angle droit
Forçage aux coupes
Forçage donne du dessous
Forçage donne en second
Forçage au dribble
Forçage classique
Forçage glissage
Forçage Henry Christ
Forçage hindou
Forçage rendez-vous
Forçage Tenkai
Val's Force
Langue :
Français.

Return to the catalogue




We advise you with this product :
1.
DVD Tagged (Richard Sanders)
29.5 €

2.
WireGram 3 of Hearts
20 €

3.
Sonata (French version)
40 €