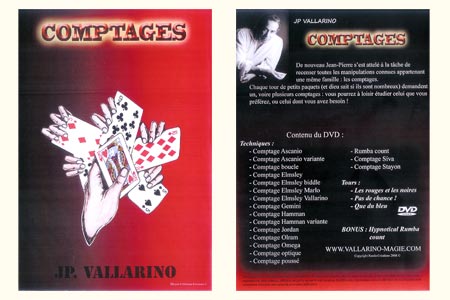 Description
De nouveau,
Jean-Pierre Vallarino
s'est attelé à la tâche de recenser toutes les
manipulations
connues appartenant à une même famille :
les comptages
.
Chaque tour de petits paquets (et dieu sait si ils sont nombreux) demandent un, voire plusieurs comptages : vous pourrez à loisir étudier celui que vous préférez, ou celui dont vous avez besoin!
AU SOMMAIRE :
Techniques :
Comptage Ascanio

Comptage Ascanio variante

Comptage boucle

Comptage Emsley

Comptage Emsley biddle

Comptage Emsley Marlo

Comptage Emsley Vallarino

Comptage Gemini

Comptage Hamman

Comptage Hamman variante

Comptage Jordan

Comptage Olram

Comptage Omega

Comptage optique

Comptage poussé

Rumba Count

Comptage Siva

Comptage Stayon

Tours :


Les rouges et les noires

Pas de chance!

Que du bleu

En bonus : Hypnotical Rumba Count

Langue : français.

Return to the catalogue




We advise you with this product :
1.
DVD Tagged (Richard Sanders)
29.5 €

2.
WireGram 3 of Hearts
20 €

3.
Sonata (French version)
40 €