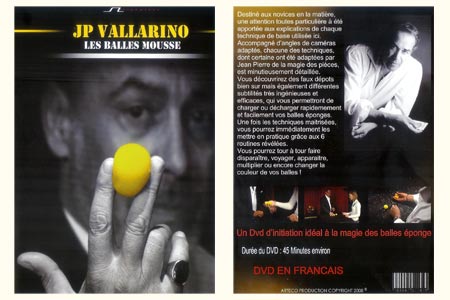 Description
Destiné aux novices
en la matière, une attention toute particulière a été apportée aux applications de chaque technique de base utilisée ici.
Accompagné d'angles de caméras adaptés, chacune des techniques, dont certaine ont été
adaptées par Jean Pierre de la magie des pièces
, est minutieusement
détaillée
.
Vous découvrirez des
faux dépôts
bien sur mais également différentes subtilités très ingénieuses et efficaces, qui vous permettront de charger ou décharger rapidement et facilement vos balles éponges.
Une fois les techniques maîtrisées, vous pourrez immédiatement les mettre en pratique grâce aux
6 routines révélées
.
Vous pourrez tour à tour faire
disparaître, voyager, apparaître, multiplier ou encore changer la couleur de vos balles ! Langue :
français –
Durée :
45 minutes environ.

Return to the catalogue






We advise you with this product :
1.
Goshman super-soft 2'' Balls
10 €
Articles of the same author:
Jean-Pierre Vallarino