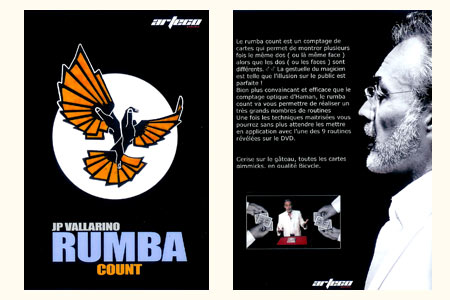 Description
Découvrez tous les secrets de ce grand classique de J-P Vallarino, utilisé par les plus grands cartomanes de la planète, pour la première fois sur dvd !
Le rumba count est un comptage de cartes qui permet de montrer plusieurs fois le même dos ( ou là même face ) alors que les dos ( ou les faces ) sont différents.
La gestuelle du magicien est telle que l'illusion sur le public est parfaite !
Bien plus convaincant et efficace que le comptage optique d'Haman, le rumba count va vous permettre de réaliser un très grands nombres de routines.
Une fois les techniques maitrisées vous pourrez sans plus attendre les mettre en application avec l'une des
9 routines
révélées sur le DVD.
Cerise sur le gâteau,
toutes les cartes gimmicks, en qualité Bicycle, nécessaires à la réalisation des effets, sont incluses !


Au Sommaire :

2 Techniques :
- Vallarino Rumba Count
- Hypnotic Rumba Count
9 Routines Incluses :
- Les As ont bon dos
- Cheaper Cards
- Poker Anglais
- Le noir vous va si bien
- La carte fofolle
- La carte universelle
- Merveilleux rêve
- Rumba Print
- Rumba Color
Cartes Spéciales Incluses (Bicycle)
DVD en Français
Durée du DVD : 53 minutes environ

Return to the catalogue




We advise you with this product :
1.
Automatic Wild Cards
10 €