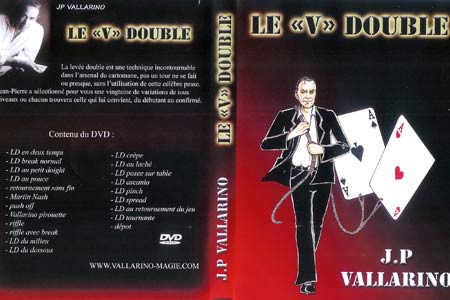 Description
La levée double est une
technique incontournable
dans l'arsenal du cartomane, pas un tour ne se fait ou presque, sans l'utilisation de cette
célèbre passe
. Jean-Pierre Vallarino a sélectionné pour vous une vingtaine de
variations de tous niveaux
où chacun trouvera celle qui lui convient, du débutant au confirmé.
Plus vous travaillez de LD différentes, plus vous serez en mesure de
bluffer vos spectateurs…
Au Sommaire
:
LD en deux temps
LD break normel
LD au petit doigt
LD au pouce
Retournement sans fin
Martin Nash
Push off
Vallarino pirouette
Riffle
Riffle avec break
LD du milieu
LD du dessous
LD crèpe
LD au laché
LD posée sur la table
LD Ascanio
LD Pinch
LD Spread
LD au retournement du jeu
LD Tournante
Dépôt

Return to the catalogue




We advise you with this product :
1.
BICYCLE Deck
3 €

2.
TECHNO Cartes
12 €