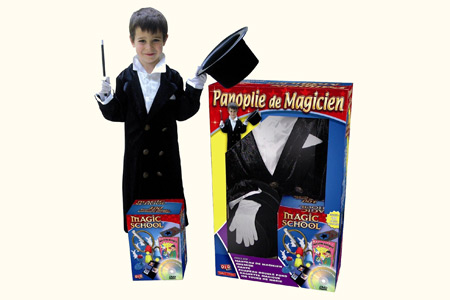 Description
Ce coffret permettra à votre enfant de présentez
un spectacle de magie de plus d'une heure
durant lequel il fera de véritables miracles.
Tout est fourni pour l'habiller :
Un manteau de magicien.
Une chemise.
Des gants.
Un chapeau double fond.
Une baguette magique.
Plusieurs tours sont également fournis dans ce coffret :
Les lapins coquins : toute une famille de lapins aux pouvoirs surnaturels. Tu va pouvoir les faire apparaître, disparaître, voyager dans l'espace et pour finir les multiplier en suivant pas à pas les explications détaillées du DVD.


Le cahier de coloriage : un livre montré blanc va s'imprimer de dessins noirs et blancs par simple effeuillage puis se colorier tout seul!


La disparition de pièces : pose une pièce de monnaie sur le tapis et entoure la avec des anneaux magiques. Celle ci va disparaître instantanément au nez et à la barbe de tes spectateurs. Une simple passe magique fera revenir la pièce.


Les gobelets magiques : 3 boules vont traversées des gobelets tour à tour.


Le coquetier : une boule va apparaître, disparaître, voyager d'un coquetier.


La vitre transpercée : transperce à l'aide d'un stylo une vitre en plexiglas en plein centre sans qu'il n'y ait la moindre fissure avant et après le tour.


Les anneaux magiques : 2 anneaux enfilés dans 2 cordons vont d'un coup de baguette magique traverser la matière pour se retrouver entièrement libres.


La femme coupée en 3 version miniature : une femme va être coupée en 3 morceaux bien distincts avant d'être reconstituée.


Comprend un manteau de magicien, une chemise, des gants, un chapeau double fond et une baguette magique.
Tenue pour des enfants de 5 à 7 ans et demi.
DVD expliquant pas à pas 100 tours de magie.
Tout le matériel pour réaliser les tours de magie est fourni.

Return to the catalogue


We advise you with this product :
1.
Svengali Deck
4 €

2.
Junior Folding Top Hat
32 €

3.
Case with 21 magic items.
85 €