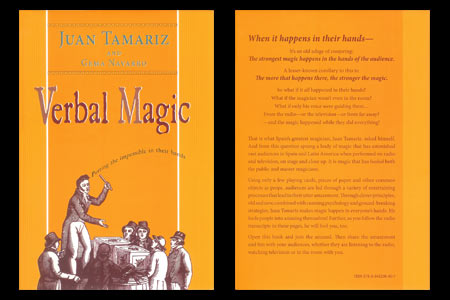 Descripción
La magie qui marque le plus les esprits est celle qui a lieu dans les mains du spectateur. Plus vous ferez participer votre public, plus votre magie sera puissante.

Que diriez-vous si le tour entier se passait dans les mains du spectateur ?
Et si le magicien n'était même pas dans la même pièce que le spectateur pendant le tour ?
Quel effet ça ferait d'avoir juste une voix qui guide le spectateur du début à la fin ?
Et si le tour se faisait par le biais du téléphone, de la radio, ou même la télévision ?
Et si la magie se produisait quand même dans ces circonstances ?
Ne serai-ce pas incroyable ?
Le grand magicien espagnol Juan Tamariz s'est posé toutes ces questions. Il a inventé des tours qui ont bluffés l'Espagne entière ainsi que l'Amérique latine, lorsqu'il les a présenté dans des émissions de radio, sur scène, en close up, ainsi qu'à la télévision. Cette magie a trompé aussi bien le public que d'autres grands magiciens…
En utilisant seulement quelques cartes, pièces, morceaux de papiers, ou d'autres objets usuels, Juan Tamariz fait que la magie a lieu dans les mains des spectateurs.
Ce sont les spectateurs qui font tout le tour et qui se dupent à eux-mêmes. Comme il a retranscrit ses textes à travers les pages de ce livre, il va vous épater à vous aussi.
Alors ouvrez ce livre et bluffez-vous à vous-même, puis ensuite utilisez cette magie pour épater vos spectateurs, vos auditeurs ou même vos téléspectateurs !


AU SOMMAIRE :
Magic with a few cards or pieces of paper
Chapitre II
: Tricks with a deck of cards
Chapitre III
: Tricks with pencil and paper
Chapitre IV
: Magic with small objects
Chapitre V
: Tricks, Bets, and Jokes
Chapitre VI
: Four ideas for four tricks
Chapitre VII
: ... And a final
Appendix
: Ideas for creating other tricks.
Langue :
Anglais -
155 pages illustrées
Volver al catálogo