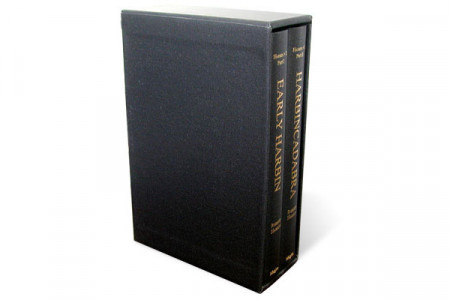 Descripción
Le premier volume, intitulé « Early Harbin » regroupe la période de 1929 à 1942, période pendant laquelle il fut publié dans de nombreux magasines sur la magie.

Le second volume, intitulé « Harbincadabra » couvre la période de 1947 à 1965.

VOLUME 1 : AU SOMMAIRE :

MY FIRST – MY TWELFTH

Matchbox-Card « Sawing » and Penetration
Rising Cigarettes
A Mystical Matchbox
A Gathering of Aces
Card, Ink, Wand, and Silks
Sentry Box Sensation
Two Match « Miracles »
Confetti Bowls
Ainslie's Ribbon-Change Solved
The King and the Gallows
Tips : Shuffle, « Blowout », Blown Egg
Sausage Ribons
All Gone Ball
In a Wandery
Four Very Big Ones
Flowers of Chocolate
Magic by the Book
He Bought Some Tricks
The Enchanted Whistle

PSYCHIC VISION

SOMETHING NEW IN MAGIC

Novel Silk Changes
The « Silko » Table Change
A New « Sun and Moon »
The Penetrating Tumbler
A Card Restored
Four-Ace Supreme
The « Zomah » Force
A Colour-Changing Wand
The Penetrating Ball
Ink Transposition
The Psychic Cigarettes
« Will O' the Wisp »
The Clothes-Line Mystery
The Wandering Fan
Ropes Thro the Body
Telepathic Paper-Tearing
A Mistake, But
A Castle Cnundrum
« Castles in the Air »
The Expanding Watch
The Transparent Man
A Wand Vanishes
Deceptive Photography
One Bottle-Two Bouquets
The Super Soup Server
The petrol-Lighter
Jottings from My Notebook
Ten New Paper-tearing Figures

SIX CARDS CREATIONS

A New Master Pack
New Reversing Cards
An Ace and King Deception
A card Production Stand
William's « Eureka » Giant Card Change
William's Novel « Giant Card Monte »

STROLLING ALONG

DEMON MAGIC

Walking Through a Rope
The Blue Ray
Two of the Best
The Stocks of Har-Bin
Most Unusual
The Vanishing Glass and Contents
The Knives of Opah
Two « Demons »
The « Demon » Pins
The « Demon » Lamp
The Superb Change
Some Table Designs
Novelties
If You Want a Wife
My Floating Glass
The « Demon » Shadow Trick
There and Back
Some Paper Magic
The « Demon » Torn Newspaper
Have Some More !
If You Want a Production Box
The Packing Case Escape
Har-Bin's « Demon » Paddle
Crockery

« INITAILLED » SECRETS

R Stands for Ribbons
O Stands for Eggs
B Stands for Bowls
E Stands for Escape
R Stands for Release
T Stands for Thought-Reading
H Stands for Help !
A Stands for Anything You Like
R Stands for Rise
B Stands for Bouquets
I Stands for Impossible
N Stands for Nine

VOLUME 2 : AU SOMMAIRE :

THIS MAGIC STUFF

A vanishing lamp
Emulate the masters (locator card)
The organ pipes organised
« Outline escape »
A novel bowl production
Stage cups end balls
Good show
Paddle Trick
What – No thumb tip ?
Card in bottle
Knotted silks
Hat-box radio production
Carrying close-up magic
Post it (card routine)
Walking through a rope
Self-lighting match
Comedy table
Man in the moon (children's effect)
Harbin's billet box
The tipsy guardsman
Simple fingers tricks
The devil's breath
Dressing room Escape
Locked door escape
Impromptu lock pick
Opening a yale pick
Opening a yale lock
It's Topsy – It's Turvy (slate idea)
Tubes and balls
Jumping flowers
Card in envelopes
Act in a hat
Shell manipulation
Harbin and the linking rings
All-around pass
Billard cue juggling
Plate and glass juggling
Inebriated bottle
Plate juggling
Matchbox swindle
Directory tear
Strong man feats
Spirit stunts
Baffle board escape
Mindreading gadgets
Headline prediction
Crazy inventions
Borrowed coin switch
Newspaper silk vanish
Californian cavalcade, by Eric C. Lewis
Robert Lund-Detroit
A sidelignht on Robert Harbin, by Robert Lund

MORE MAGIC STUFF

The little tippler
Perforated production box
Vanishing Lucifer
Added encahntement (Enchanted Vase improvement)
Suspense and suspicion (glass levitation)
Hypnotism-or something ! (idea with rice paper)
The penetrating bottles
Double top (chosen card on dart)
Flames and flahes
Some notes on a miracle by Peter Warlock
Tippler major by Lord Amwell
Tippler stop by Les Worthington
In the mirror
Cage me a peacock (vanishing cage)
A limerick (latex collapsibles)
The little Stickler
Mirrored Rising cards
Gilletine
Wets beats east (Hindu vase improvement)
« William tell »
There it is-there it isn't (invisible wood block)
Chameleon knots
The daddy of them all (magnet idea)
Visible-invisible change bag
One from the bath
Cee-thru rising cards
Stonehenge (Tippler)
Magic in the matropolis

HARBIN'S BRAINSTORMS

End of a pilgrimage
Flapjack ! (production box)
Folding See-through tube
For my lady (flowers from a transparent box)
20th century in reverse
Magnetic cigarette
Colour changing Buttonhole
All change ! (coin transpo)
Stabbed in the back (card stab)
Black art n° 1 (portable B.A. Frame)
Black art n°2 (Spirit cabinet)
Unmatched ! (tissues to matchbox)
Harbin's ringed rope
Ad infinitum plus
Here's Jumpy !
New life for an old bag
There it is ! (Black art cabinet)
Robert's easter egg
Coronation card trick
Coronation folder
Find the what-have-you (triple squared circle)
Harbin's Howler (falling blocks)
The little winner (rising match)
Coronation Ribbons
Solid prediction
My mistake ! (double banner)
Holders make magic
Divers definitions (flap mirror)
The spirit seance
The vanishing noduliser

HARBIN'S FANCIES

The real danger (TV magic)
The wheel of fortune (silk production)
Weary Willie (animated spider)
The Harbin triple coincidence
Giant memory plus
A recorded prediction
Miracles for sevenpence-halfpenny
Pharaoh's pastime (rod and beads)
The rapping hand
The stabbed card
A matter for the laundry (comedy hank. Routine)
Flowers for a lady
Not really my fancy (silk transposition)
Harbin's anti-gravity glass
Confound them all ! (knife and rice levitation)
A new lamp for such an old one (vanishing glass)
Bottle-glass : glass-bottle
They can't all be good (smoke and glasses)
Super prediction – I
Super prediction – 2
Lights, please ! (tumbler levitation)
The ever-vanishing birdcage
The lady floats again

BERMUDA MAGIC

The tumbling block
Bermuda production box
The guardsman tips again
Tippling still
Harbin's anti-gravity examined by Walford Taylor

HARBINCADABRA

Cabaret pack switch
Sensation !
The super thing
Full hank restoration (cut and restored rope)
Controlled crash (self-shattering wine glass)
The story of the straw man
Dorothy's shoes
The witch who melted away
Blooming bush
The super spirit cabinet
Pack –away tables
The great prediction
The fantastic production
Spring those hinges !
Harbin's 1000th (radio transformation)

IN MEMORIAM

Robert Harbin – Goodliffe
Robert Harbin – Bayard Grimshaw
Californian Cavalcade – Eric C. Lewis Remembers
I never really knew him, but, by John Wade
My partner – Robert Harbin, by Frederick Barlow
Alan Shaxon and Val Andrews Remenber
Anecdotes
A final word –goodliffe

Langue : anglais – 631 pages illustrées.
Volver al catálogo