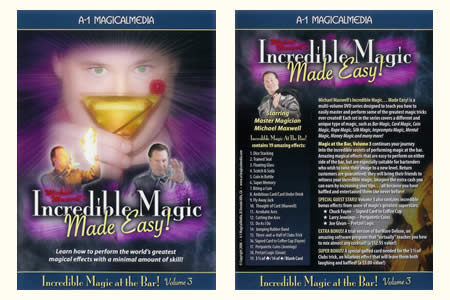 Descripción
Les surprenants
Incredible Magic...Made Easy!
de Michael Maxwell forment une série constituée de plusieurs DVD dont le but est de vous apprendre à maîtriser et à présenter quelques uns de meilleurs tours de magie existant !
Chaque ensemble recouvre une branche de la magie unique et différente telle que
la magie en bar, la magie des pièces, la magie des cordes, la magie des foulards, la magie impromptue, le mentalisme… et bien d'autres choses encore !Magic at the Bar, le Volume 3
, continue à vous dévoiler les étonnants secrets de la magie en bar. Il vous propose d'époustouflants effets de magie qui sont faciles à réaliser, et ce quel que soit le côté du bar duquel vous vous trouvez, et ravira notamment les propriétaires de tels établissements qui souhaitent améliorer leur image de marque.
L'effet sur le public est garanti, ils reviendront avec leurs amis pour leur montrer à quel point votre magie est incroyable ! Imaginez les sous que vous pourrez gagner grâce à de simples pourboires qui ne se sont le fruit que du divertissement de vos spectateurs.
Le volume 3 renferme également d'étonnants
effets bonus
inspirés des plus grandes stars de la magie :
Chuck Fayne - Signed Card to Coffee Cup

Larry Jennings - Peripatetic Coins

Joe Givan - Pretzel Logic

EXTRA BONUS! Une version expérimentale du Barware Deluxe, un surprenant logiciel qui vous apprend virtuellement comment mélanger presque tous les cocktails.

SUPER BONUS! Une carte spéciale nécessaire pour la routine Anywhere Cards de Michael Maxwell , un effet incroyable dans lequel deux cartes choisies voyagent comme par magie dans deux endroits impossibles.



Au sommaire :


Dice Stacking

Trained Seal

Floating Glass

Scotch & Soda

Coin in Bottle

Super Memory

Biting a Coin

Ambitious Card/Card Under Drink

Fly Away Jack

Thought-of Card (Maxwell)

Acrobatic Aces

Cutting the Aces

Do As I Do

Jumping Rubber Band

Three-and-a-Half of Clubs Trick

Signed Card to Coffee Cup (Fayne)

Peripatetic Coins (Jennings)

Pretzel Logic (Givan)

3 1/2 of Clubs/ 14 of Spades/ Blank Card



Langue : Anglais, Durée : 1h40

Volver al catálogo