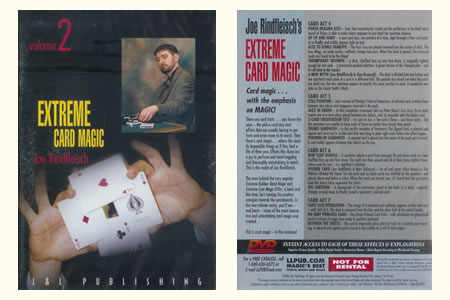 Descripción
Il existe des tours de cartes... vous connaissez bien évidement les trop connus "prenez une carte, n'importe quelle carte" qui s'avèrent ennuyeux à réaliser et encore plus à regarder.
Puis il y a la magie des cartes... où les cartes réalisent des exploits inconcevables comme si elles contrôlaient leur vie.
De tels effets sont un plaisir à réaliser et s'avèrent époustouflants et totalement divertissants à regarder. Voici en quoi consiste l'
art de Joe Rindfleisch.
L'homme qui se trouve à l'origine du célèbre DVD Extreme Rubber Band Magic et du très connu Extreme Coin Magic, est de retour et cette fois il dirige son esprit créateur vers la magie des cartes.
Dans cette série en deux volumes vous trouverez quelques uns des
tours de cartes les plus inventifs et divertissants
jamais inventés.
Voici la magie des cartes – poussée à l'extrême !
Au sommaire :


CARD ACT 4

Poker dealing aces
Les quatre as disparaissent mystérieusement lors d'une partie de poker avec le magicien qui est capable de faire réapparaître les as dans une de mains choisies par le spectateur.

Up up and away
Une carte choisie remonte peu à peu dans un petit paquet de quatre cartes pour finalement apparaître de façon visible sur le dessus !

Aces to kings transpo
Les quatre as sont placés retournés au centre du paquet. Les quatre rois, mis de côté un peu plus tôt se changent soudainement en as. Lorsque le jeu est étalé les quatre as se sont changé en rois !

Triumphant triumph
Un jeu, mélangé face en haut, faces en bas, se range comme par magie à l'exception d'une carte précédemment choisie par le spectateur. Une version étonnante du Triumph plot.

A new myth (Joe Rindfleisch & Ken Krenzel)
Le jeu est divisé en deux parties et deux spectateurs choisissent une carte dans chaque moitié. Les paquets sont mélangés et lorsque les cartes choisies sont retrouvées, elles se trouvent toutes les deux au même niveau. Une merveilleuse reprise du classique Smith's Myth.



CARD ACT 5

Still pointing
La version de Joe du Elmsley's Point of Departure. Une carte choisie disparaît d'entre deux jokers et réapparaît retournée dans le jeu.

Jazz in order
Une version améliorée de Jazz Aces de Peter Kane dans laquelle trois cartes disparaissent les unes après les autres lorsqu'on les place entre deux jokers.

3 Card observation test
Trois cartes simplement: un as, un deux et un trois, dont les spectateurs perdent sans cesse la trace même en les regardant attentivement.

Signed sandwich
Dans cette version effrayante de The Signed Card de Hamman, la carte choisie et signée s'avère être celle clairement visible au début du tour.

Thrown up sandwich
Une carte choisie placée au centre du jeu apparaît instantanément entre les deux jokers situés sur le dessus du jeu.



CARD ACT 6

New slop shuffle
Un spectateur choisit une carte parmi 26 qui sont ensuite mélangées face visible et face cachée. Le jeu est alors étalé, toutes les cartes se trouvent dans le même sens à l'exception d'une seul qui s'avère être la carte choisie.

Divider card (Joe Rindfleisch & Marc DeSouza)
Un effet avec de l'huile et de l'eau basée sur le Divided We Stand de Roy Walton. Six cartes rouges et six noires sont mélangées par le spectateur et placées dessus et dessous un joker. Lorsque les cartes sont retournées, le spectateur (ou le joker) a séparé les noires des rouges.

Joe cartoon
La photographie du magicien, collée sur le dos d'un joker, change plusieurs fois pour finalement révéler une carte précédemment choisie.



CARD ACT 7

Card case revelation
L'image d'une carte choisie apparaît soudainement à moitié sur d'un étui de cartes. Le jeu est alors sorti de l'étui et la seconde moitié est retrouvée à l'intérieur.

No gaff princess card
Le classique Princess Card Trick sans aucune carte truquée ! Un classique de la magie que vous pourrez présenter à tout moment !

Between the sheets
Une version du card to impossible place qui lui donne un tout autre sens. Une carte choisie et signée est retrouvée au milieu d'un rouleau de papier toilette.



Langue
: Anglais,
Durée
: 1h46
Volver al catálogo