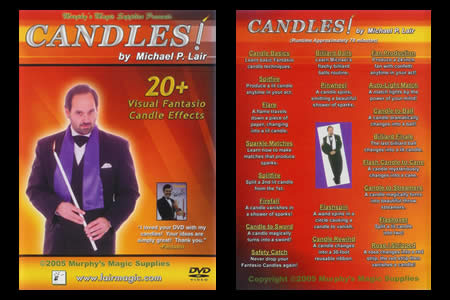 Descripción
Découvrez tous les secrets de l'inventeur des effets avec les bougies de Fantasio.
Ce DVD regroupe de nombreux effets tournant autour du thème des bougies. Allumettes, étincelles, apparitions et disparitions vous permettront d'illuminer vos spectacles et de faire étinceler les yeux des vos spectateurs.


Ce Dvd inclut entre autre:



Candle basics - Apprenez les techniques de base.

Billard balls - Apprenez une routine avec des boules de billard.

Fan production - Produisez un éventail à confettis quand vous le désirez.

Spitfire - Produisez une bougie allumée à tout moment.

Pinwheel - La mèche d'une bougie produit une nuée d'étincelles.

Auto-light match - Une allumette s'allume grâce à votre esprit.

Flare - Un flamme traverse une feuille de papier pour se transformer en bougie.

Candle to ball - Une bougie se change en balle.

Sparkle matches - Apprenez à faire des allumettes produisant des étincelles.

Billiard finale - Une boule de billard se change en bougie allumée.

Splitfire - Dédoublez une première bougie allumée en une seconde.

Flash candle to cane - Une bougie se transforme en canne.

Firefall - Une bougie disparaît dans un nuage d'étincelles.

Candle to streamers - Une bougie se transforme en de jolis streamers.

Candle to sword - Une bougie se transforme en sabre.

Flashpin - Une baguette décrit un cercle et fait disparaître une bougie.

Flashover - Dédoubler une bougie allumée en deux.

Safety catch - Ne laissez plus jamais tomber vos bougies Fantasio.

Candle rewind - Une bougie se change en un ruban récupérable.

Rose / stripped - Une rose se change en une bande rouge qui se change ensuite en bougie.


Langue : Anglais. Dvd Multizone



Volver al catálogo