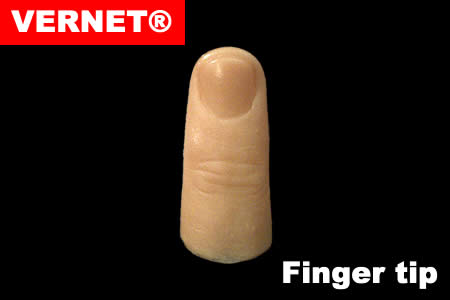 Description
Cet accessoire sera
chaussé sur votre auriculaire
, comme s'il s'agissait la aussi d'un faux pouce.
Ce gimmick
se fondra parfaitement dans son environnement
surtout si vous le pointez lui aussi vers le public qui ne pourra pas, dans cette position, en apprécier la longueur.
Vous pourrez aussi
manier ce gimmick tel un « Manicolor »
en le tenant légèrement plaqué contre l'intérieur de votre main dans la position tout à fait normale d'une main au repos, les doigts un peu recourbés.
Longueur :
4,5 cm ce qui correspond environ aux deux dernières phalanges de votre petit doigt.
Chargé, ce faux doigt pourra également être chaussé par n'importe lequel de vos doigts à l'exclusion, du pouce.
La couleur et l'aspect de ce gimmick les mêmes que celles des autres faux doigts Vernet.

Return to the catalogue


You can find this magic item in :
1.
5 False Finger Set (Vernet)
15 €

We advise you with this product :
1.
Classic Thumb Tip (Vernet)
4.5 €

2.
Thumb Tip Flame (Vernet)
13 €