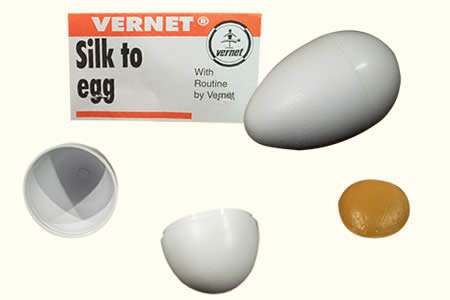 Description
Le magicien présente un foulard au public qu'il enfonce dans la main gauche fermée.
Il ouvre alors la main pour montrer que le
foulard s'est transformé en un œuf blanc.
Il propose alors d'expliquer le tour : il retourne l'œuf et montre un petit trou que son pouce dissimulait jusqu'à présent..
Afin de le prouver il propose de casser l'œuf…
À la grande surprise du public,
le magicien casse l'œuf en deux
… ce dernier contenait réellement du jaune et du blanc,
c'était un vrai œuf !!
Facile à faire
Foulard non fourni
.
Dimensions
Œuf de 6,2 x 4 cm

Return to the catalogue


We advise you with this product :
1.
Silk to ball (Vernet)
8.5 €

2.
Fake plastic egg
2.5 €

3.
Egg Bag With Zipper
13.5 €