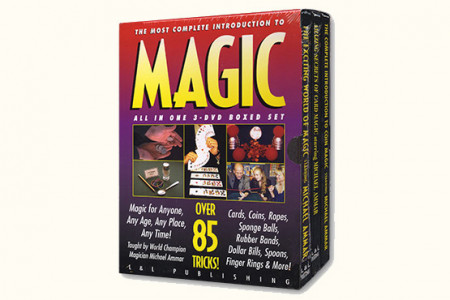 Descripción
C'est ce que les professionnels appellent le vrai travail. Tout cela est révélé par la technique mise au point par le champion du monde Michael Ammar, qui présente des vues sur l'épaule qui montrent exactement ce que vos mains doivent faire lorsque vous manipulez. Vous découvrirez également Les vrais secrets - au-delà des méthodes techniques, vous apprendrez pourquoi les choses fonctionnent comme elles le font, comment faire en sorte que les gens se soucient de la magie que vous faites, comment faire si les choses tournent mal, comment améliorer votre magie, comment créer des routines amusantes, comment être prêt pour tout résultat, quand exécuter et quand arrêter, les règles fondamentales, et beaucoup plus - le tout par un champion mondial avec 30 ans d'expérience en enseignant la magie aux autres magiciens !

Volume Un - The Exciting World of Magic

Des surprises magiques étonnantes avec des cuillères, des élastiques, des serviettes, des cartes de visite, des crayons, des salières, etc. vous permettent de vous divertir à tout moment à n'importe quelle table - à la maison ou dans un restaurant. Des années de recherche ont été consacrées à rassembler le meilleur de la magie qui peut être apprise par toute personne réellement engagée à l'apprendre. Le Travail n'a jamais été aussi soigneusement expliqué, ou enseigné. L'amour d'Ammar pour la magie et sa passion pour l'enseignement se retrouvent dans cette collection classique de quelques-unes de ses plus belles œuvres.

Volume Deux - Amazing Secrets of Card Magic

Ces secrets vous permettent d'étonner n'importe qui avec n'importe quel jeu de cartes ! De la manipulation de base de cartes à l'épanouissement de la magie utilisés par les professionnels, vous serez en mesure de produire n'importe quelle carte sélectionnée, les quatre As ou une quinte flush royale complète ! De plus, vous découvrirez le secret pour séparer par magie tout le rouge de toutes les cartes noires, comment faire en sorte qu'un jeu soit instantanément mélangé face visible en cartes faces cachées pour faire face à la même direction, et bien d'autres effets que vous voudrez réaliser pour toute une vie !

Volume Trois - Amazing Secrets of Card Magic

Imaginez le frisson de savoir que vous pouvez prendre n'importe quelle pièce de monnaie de votre poche et faire de la magie incroyable avec elle à tout moment, n'importe où ! De vrais secrets pour faire disparaître et réapparaître des pièces de monnaie n'importe où, n'importe quand, de la manière la plus cool qui soit ! Technique après technique, routine après routine - vous serez étonné de voir combien de magie vous avez déjà dans vos poches ! Avec le ralenti et les vues extrêmement rapprochées et des instructions pas à pas.
Volver al catálogo