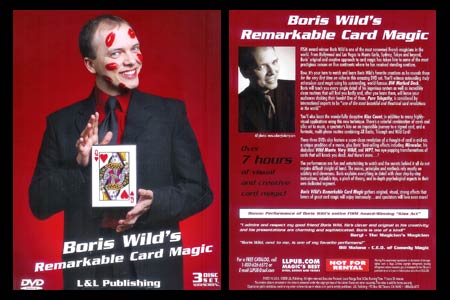 Descripción
Premiado en la FISM, Boris Wild es uno de los magos franceses más conocidos en el monde. De Hollywood a Las Vegas pasando por Monte Carlo, Sydney o Tokyo, el enfoque original y creativo de sus juegos le han permitido trabajar en los sitios más prestigiosos de los cinco continentes, de donde ha recibido cada vez, una lluvia de aplausos.

Ahora, ud. tiene la oprtunidad de descubrir y de aprender los juegos favoritos de Boris Wild que revela por primera vez.

Entre otras, descubre la célebre Baraja Marcada BW. Boris Wild les explicará hasta los más pequeños detalles de su ingenioso sistema igual que los efectos muy limpios que dejarán a su público estupefacto. También incluyen la rutina «Pure Télépathie», considerada como una de las revelaciones de cartes más bellas y teatrales del mundo.

En estos 3 DVDs, ud. descubrirá también efectos como el «Miracolor», su diabólico «Wild Monte», «Very Child» y además «WPT»…

Las damostraciones son divertidas y las manipulaciones bastante simples de realizar. Boris Wild explica todo en detalle, paso a paso para una mejor comprensión.

«¡Boris Wild, es para mí, uno de mis magos preferidos!» Bill Malone.

«Admiro y respeto a mi gran amigo Boris Wild. Es ingenioso y original en su creatividad. Sus presentaciones son elegantes y refinadas. Boris es único!" Daryl.

CONTENIDOS:

Volumen 1:

The Unfolding Deck: Un efecto de apertura muy divertido en el que una baraja de cartas se despliega para presentar al mago.
Doble Revelación: Un verdadero juegazo en el que el mago adivina las dos cartas que faltan en la baraja.
The Ideal Effect: Una rutina de carta elegida simplemente perfecta, realizada en las condiciones más claras y más extremadamente imposibles.
Peek Sandwich: Una rutina de sandwich muy "limpia" con una carta pensada y ¡un espectador que lo hace todo de principio a fin!
Concept of The Boris Wild Marked Deck: La explicación detallada del sistema de marcaje de Boris Wild con numerosas sutilezas y datos para sacarle el jugo plenamente en todas sus posibilidades.
Basic Applications with the BW Marked Deck: Las explicaciones de cantidad de efectos simples con la Baraja marcada BW.
The BW Marked Deck as a safety net: Donde explica como la barajamarcada le puede salvar la vida en condiciones reales de trabajo.
Tips on the Cull: La explicación del «Cull» por Boris y como realizar mejor esta técnica verdaderamente eficaz.
The Revelation Pass: ¡Una técnica de revelación de cartas espectacular y muy visual!
Middle Fan Rise: Una técnica de ascendente en el abanico completamente impromptu.
Not that drunk: Una muy bonita rutina de "Triunfo" en la que el tramposo no está tan borracho como pretende, ¡puesto que tiene una escalera de color al As!
The WSB Principle: Una nueva forma de fabricar cartas adhesivas + algunas aplicaciones simples utilizando este principio.
Wild Monte: Una rutina de trile muy visual y comercial en la que el dorso de la carta cambia de color durante todo el juego.
Skyliner: Una revelación de carta pensada a la vez moderna y muy "limpia", en medio del aire, con un "escáner de pensamientos" !
Miracolor: Una rutina de cambio de color de baraja con muchas transformaciones inesperadas y un final "matador" !

Volume 2:
Inexplicable: Un efecto de predicción totalmente imposible, presentado en las condiciones más draconianas.
Made For Each Other: Una bonita rutina en la que el mago y una espectadora eligen los dos unas cartas del mismo valor y el mismo color con un final ¡"a corazón abierto"!
Double Personality : Un miroir magique entre le magicien et un spectateur permet de créer une coïncidence particulièrement nette et impossible.
The Bikini Deck & Miss Bikini : Une routine follement divertissante qui permet d'élire la gagnante du concours "Miss Bikini" !L'explication comprend la description du "Bikini Deck" et ses formidables possibilités.
Tips on the Invisible Deck : Ou comment améliorer le Jeu Ultra-Mental ("Jeu Invisible").
The Kiss Count : La technique du Numéro de FISM de Boris. Un comptage fluide et visuel qui remplace le "Comptage Optique".
Kiss Count Sequence : Une séquence en musique dans laquelle le "Kiss Count" est présenté avec différents objets (cartes, enveloppes, photos, dominos, CDs…)
Color Kiss : Un effet d'ouverture coloré et visuel avec cartes jumbo et foulards.
Travelling Kiss : Une routine romantique où le baiser d'une spectatrice voyage sur une carte signée.
Wild-Deuce-Ination : Un effet très "flash", basé sur un classique de Brother John Hamman, dans lequel quatre rois se transforment en quatre as.
Signed Assembly : Quatre cartes signées disparaissent puis réapparaissent, les unes après les autres, dans les mains du magicien jusqu'à un final totalement inattendu.
Wild Wild Card : Une routine en plusieurs phases qui combine "Triomphe", "All Backs" et "Carte Folle" avec un final en musique très visuel et un climax renversant !

BONUS: THE KISS ACT (démonstration seule) : L'intégralité du numéro primé aux Championnats du Monde FISM.

Volume 3 :

Size Does Matter : Un effet d'ouverture aussi drôle que visuel avec des étuis et jeux de cartes de différentes tailles.
Miracle! : "N'importe quelle carte à n'importe quel nombre" dans des conditions tout simplement parfaites.
Pure Telepathy : Une révélation de carte prodigieusement pure, réalisée en musique et considérée comme étant l'une des plus belles au monde.
The Boris Wild Memorized Deck : L'explication du "Jeu Mémorisé Boris Wild" que vous pourrez apprendre en quelques minutes seulement !
Easy applications with the BW Memorized Deck : Plusieurs façons simples et rapides de s'entraîner avec le "Jeu Mémorisé BW".
The Gravity Shuffle : Un faux mélange complet du jeu avec de nombreuses subtilités.
Very Wild! : Un effet ahurissant où quatre cartes quelconques se transforment en quatre as de la façon la plus visuelle qui soit.
WPT (Wild Poker Trick) : La nouvelle version améliorée de "Very Wild!" où cinq cartes dépareillées se métamorphosent en quinte flush royale à la vitesse de l'éclair. Tout simplement bluffant.
Triumphal Mess : Une routine de "Triomphe" avec la patte de Boris et plusieurs subtilités habiles.
Double Personality 2 : Le miroir magique est de retour ! Non seulement il crée une incroyable coïncidence entre le magicien et un spectateur, mais les cartes voyagent à travers le miroir imaginaire pour un climax tout à fait étonnant.
Mindbuster Video : Une superbe routine basée sur le thème de la technologie dans laquelle le magicien parvient à prédire le DVD du film qu'un spectateur souhaite regarder.

Langue : anglais – Durée : 7h30.
Volver al catálogo