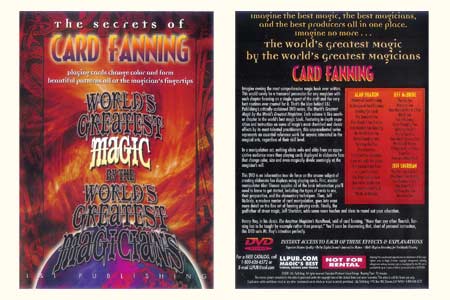 Descripción
Si vous deviez posséder une seule collection de DVD sur la magie ce serait celle-ci !
Cette collection de référence reprend
les meilleurs effets et routines de la magie.
C'est un fabuleux recueil dans lequel de nombreux maîtres magiciens vous apprennent leurs mouvements et routines pour quelques classiques de la magie.
Anneaux chinois, balles éponges, torsion du métal, balles et gobelets, faux pouces, zombie, canifs caméléons et de très nombreux autres sujets sont tous abordés dans cette impressionnante collection de DVD de référence.
Chaque volume couvre un sujet spécifique et vous proposes quelques morceaux modernes, anciens et d'anthologie des meilleures vidéos de la magie.
Dans la manipulation, rien ne suscite plus les étonnements du public par des « oh » et des « ahh » que lorsque vous réaliser des éventails qui changent de couleurs, de taille…à la demande du magicien.
Ce DVD vous permettra de connaître toutes les ficelles de ce sujet resté si obscur.
Tout d'abord, le maître de la manipulation, Alan Shaxon, fournit les informations de bases dont vous aurez besoin pour commencer, comme le choix des cartes, leur préparation et les techniques de base.
C'est ensuite au tour de Jeff Mc Bride, un expert contemporain de la manipulation, de livrer encore plus de détails sur cet art si minutieux des éventails de cartes.
C'est finalement Jeff Sheridan, qui ajoute quelques idées supplémentaires pour compléter votre formation.
AU SOMMAIRE :
Alan Shaxon :
History of card fanning
Technique of card fanning
Treating the cards
The standart fan
One handed fan closing
One handed fan opening
The blanck deck fan
Color-changing fans
Splitting the fan
The giant fan
The giant fan variations
Giant fan with two decks
Gimmicked giant fans
Stripped fan deck
The diminishing cards
Normal to jumbo fan
The fan-see card trick
Words of wisdom
Jeff Mc Bride
Thumb fan
Pressure fan
One handed fan & S fan
Blanck fan
Color fanning
Color fanning fan
Splitting the fan
Rising sun fan
One hand circular fan
Windshield wipers
4 ways to fan a deck
Giant fan
Ganson's glued deck
Jeff Sheridan
The two handed fan
One hand fan closing
Two handed S fan
The giant fan
Splitting the fan
Reverse fan
Langue :
anglais –
Durée :
53 minutes.
Volver al catálogo