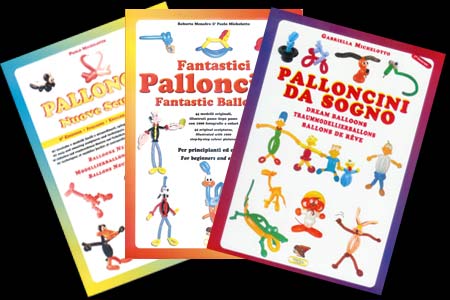 Descripción
Manuels parfait pour apprendre la
sculpture sur ballon
, qui servira autant aux
amateurs
qu'aux
professionnels
désireux d'augmenter leur panel de figures à réaliser avec des ballons.
Ces
3 volumes
regroupent
plus de 140 figures différentes
que vous assimilerez très facilement grâce aux
centaines de photographies
montrant pas à pas la réalisation des figures.
VOLUME 1 : AU SOMMAIRE
Tips for beginners
Fundamental Knot
Basic Twist
Ear Twist
Pon-Pon Dog
Swan
Balloon Stomp
Sword
Heart
Cat
How to inflate
Starship Gun
Machine Gun
Viking Hat
Snail
Idea
Tip
Rocking Horse
Pink Panther
Six Petal Flower
Flower Hat
Goofy
Donal Duck
Bee
Daisy Duck
Candle
Uncle Scrooge
Gyro Gearloose
Lupo Alberto
Magical Dog Production
Marta
Hypnosis
Dog's Hair
Calimero
Karate Chop
Dozens of sculptures
Obelix
Sticky Creatures
Princess Crown
The Jammed Pump
Asterix
Aladdin's Genie
Popeye
Balloon Juggling
Roger Rabbit
Elasticity
Felix the Cat
Octopus
Road Runner
Pacifier
Langue :
italien, anglais -
Format :
21 x 29,7 cm -
48 pages
.
VOLUME 2 : AU SOMMAIRE :
Conseils pour qui commence
1° et 2° nœud
3° nœud
4° nœud
Torsion fondamentale
Torsion fondamentale rapide
Torsion en anneau
Torsion en oreille
Torsion en pomme et en lèvre
Torsion en pomme élaborée
Torsion en panache et avec yeux
Jonction de deux ballons – Comment couper un ballon en deux parties
Cou d'oiseau
Jambes ouvertes
Corps d'oiseau
Queue en pon pon
Torsion en candi
Tresse avec trois ballons
Petit chien (version rapide)
Cygne rapide
Cœur
Dinosaurien
Petit ours
Petite oie
Goéland
Oiseaux sur un cœur
Petit homme aux yeux à fleur de tête
Epée chic
Grand sabre
Poulet
Avion
Porcelet
Moto
Guitare
Langouste
Petit ours sur un avion
Bicyclette
Petit chien bariolé
Couple de cygnes
Gros lapin
Cœur sur une tresse
Sceptre cœur
Pigeons sur un cœur
Papillon
Fleur aux 6 pétales
Petits ours qui s'embrassent
Petit ours en voiture
Daffy Duck
Paon
Pingouin
Pluto
Putois
Araignée
Rose
Tweety
Mickey
Yeux sautillants
Chapeau de base-ball
Chapeau avec yeux 3D
Balles de ballon
Balle dans un ballon
Tresse avec balles
Bibliographie
Langue :
italien, anglais, allemand et français -
Format :
21 x 29,7 cm -
60 pages
.
VOLUME 3 : AU SOMMAIRE :
Conseils pour ceux qui commencent
Torsion fondamentale Rapide
Torsion et Anneau
Torsion en Oreille
Torsion en Pomme
Petit Chien (Version Rapide)
Cygne Rapide
Cœur
Soucoupe Volante
Chien Sympa
Serpent
Poisson – Chapeau Poisson
Lapin dans le chapeau Haut-de-Forme
Fleur Sympa
Epée
Chapeau Canard
Dromadaire
Ours à Bicyclette
Grande Mouche
Grande Libellule
Crocodile
Petit Dragon
Bart
Omer
Petite Sœur
Lisa
Marge
Le Coyote
Gros Minet
Hache
Gonzales
Langue :
Italien, anglais, allemand, français –
62 pages illustrées
.
Volver al catálogo