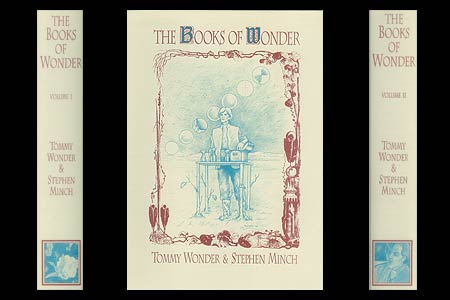 Descripción
Ces deux superbes volumes de Tommy Wonder sont à posséder absolument.

Tommy Wonder est sans doute le magicien le plus respecté dans le monde de nos jours, largement reconnu comme un maître du close-up et de la scène.

Vous trouverez dans ces livres toute une série de tours, de routines et d'essais.
Il y explique également ses routines professionnelles pour le close-up.

Vous trouverez des chapitres consacrés au close-up avec des cartes ou des pièces et une sélection de tours très originaux.

D'autres chapitres traiteront du close-up avec d'autres objets que des cartes ou des pièces et comprend de perspicaces remarques concernant les problèmes que l'on peut rencontrer lors d'un spectacle, comme par exemple comment s'approcher des tables, comment se présenter soi-même et sa routine, faut-il rester debout ou s'asseoir, comment évoluer dans un environnement bruyant…

AU SOMMAIRE

VOLUME 1 :

Chapitre 1 : Attention-Getting Devices
Chapitre 2 : Travel Tales of Mr. Pip
Chapitre 3 : The Tamed Card
Chapitre 4 : Presentations in Silver
Chapitre 5 : Group Encounters
Epilogue : Ouroboros

VOLUME 2 :

Chapitre 1: In the Trenches
Chapitre 2 : Acetabula et Calculi
Chapitre 3 : Finger Sprints
Chapitre 4 : Department of Utilities
Chapitre 5 : Mechanical Marvels

Pour plus de détail sur les chapitres reportez-vous aux fiches de chaque volume.

Langue : anglaise – plus de 600 pages illustrées.
Volver al catálogo